TechInsights' Experiences of the 2021 Chip Shortage
Our views on contributing factors, how it has impacted our semiconductor reverse engineering this year, and looking to the future
To reverse engineer a product, we first have to get our hands on the product. And in that respect, we are just the average consumer. For the most part, every product TechInsights analyzes is something we purchase through the same channels as anybody else. We're in line next to you on iPhone launch day, we're on hold with Best Buy waiting to ask if they have any new Xboxes in stock, and we're facing the same challenges as everybody else when it comes to sourcing electronics in the era of chip shortages and global supply chain issues.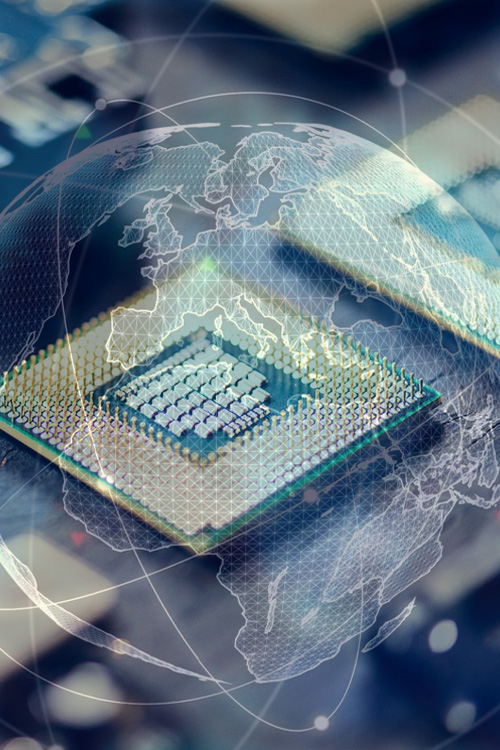 We asked our team for their thoughts on the chip shortage and supply chain issues, and on how these issues have impacted their jobs this year. Here are some of their thoughts.
Linley Gwennap, Principal Analyst
Linley Gwennap contributed the Editorial: Carmakers Crash Chip Party – Chip Buyers Seek More Control Over Short Supplies to the Microprocessor Report December 13, 2021. Below is a portion of that article. Subscribers can read the full piece.
People keep asking me why we have a chip shortage. Despite production problems early in the pandemic, along with weather-related shutdowns earlier this year, chip shipments haven't dropped. In fact, worldwide semiconductor sales in the most recent quarter topped $144 billion, an all-time record and up 31% from pre-pandemic levels.
The problem is that chip demand has climbed even faster. Laptop-PC shipments jumped in 2020 and have risen further this year as users upgraded for better Zoom conferences and work-from-home (WFH) performance. The WFH trend also increased demand for cloud services, leading hyperscalers to buy more servers. Many of these services now rely on neural networks, so AI-accelerator sales jumped in 2020 and in 2021. With time on their hands, gamers sought new GPU cards; despite chronic shortages, shipments are up more than 50% from 2019. Although shipments are flat, today's cars require far more chips than in previous years, particularly for safety systems and electric powertrains.
This shortage is therefore a simple case of demand outstripping supply, despite conspiracy theories to the contrary. Although some price gouging has occurred at the retail level (e.g., cars and graphics cards), chip prices have risen only modestly. These prices are often set by contract, preventing any quick changes. The revenue increase noted above is mainly due to chip vendors directing their limited supplies to high-end products instead of low-cost ones.
Fabless chip vendors are subject to price increases from their foundries. Wafer prices for trailing nodes (e.g., 45nm) have increased, hindering vendors of microcontrollers and other low-cost chips. The effect is much smaller in leading nodes. But wafer prices typically fall for the first few years after a node's introduction, so this is in effect an increase. Chip vendors that prefer to stay with the N-1 node to save money may have to wait longer to move to the next node.
Foundry prices will return to normal once supply meets demand. While fabs worldwide have made incremental changes to boost production, bringing an entirely new fab online takes about two years. Many companies are investing billions of dollars in new capacity that will come online in 2022, easing the shortages. Although chipmakers typically build leading-edge fabs, some of that investment is going into older nodes, where the recent wafer-price inflation makes this construction profitable.
The semiconductor industry has been through many boom-and-bust cycles, with each boom typically lasting two to three years owing to the time necessary to build new fabs. Although these cycles had calmed over the past decade, pandemic-driven demand surges triggered a sudden boom, leading to widespread shortages. Since then, chipmakers have worked overtime to improve supply, and new fabs in 2022 should resolve most of the shortages. The next concern will be avoiding a bust, but the number of fabs under construction appears well matched to market needs. Absent any sudden demand drops, the chip market should by 2023 return to the Goldilocks zone, where the supply is just right.
Chris Pawlowicz, Director, Research and Development
"From a lab/equipment point of view we definitely see the effects of supply chain issues:
for standard repair and maintenance of the 100's of pieces of equipment we have in our labs we have seen replacement parts that used to come in a couple of days now sometimes take weeks or even months. We are ramping up our 'in-house' spare parts cache and often ordering from a couple of sources at the same time because delivery times are so unreliable
looking at new equipment we are seeing (in some cases) much longer lead times for big ticket items… what was an 8-10 month delivery for a new ion beam etcher is now quoted out to 12-14 months!
So behind the scenes we now have to really plan much further ahead and rely less and less on just-in-time delivery."
Daniel Yang, Technical Research and Sourcing Specialist
On possible contributors to chip supply issues:
"The global pandemic starting early last year led to some semiconductor companies lowering their forecasts for the semiconductor consumption due to fears of a global economic depression. With lower consumption predicted, these semiconductor companies might have produced fewer chips than previously planned. The industry, however, did not see any obvious weaknesses in demand; some areas, such as remote working and gaming, have seen higher demand than ever.
The chip shortages have gradually appeared. With the media adding fuel to the flames, everybody is talking about shortages. Under the threat of more shortages in the future, consumers rushed to buy, it further impacted current shortages, IC design houses placed more orders with the foundries, and foundry capacity has continued to tighten. The whole supply chain has seen tight production issues grow this year."
On how supply chain issues have impacted his role at TechInsights
"First example, we are now shopping for DDR5 modules, which use the industry's most recent DDR5 standard for computers. A few memory manufacturers have released their DDR5 products to the market, however the stocks are always gone immediately. We have to search everywhere for stock. We found some eBay sellers selling a module at an opening bid price a few times higher than regular price. Even at such a high price, there were still a few buyers bidding for it.
Another example was last year's nVidia GeForce RTX 3080/3090 GPU card shortage which was a known case in our industry. The shortage lasted for a few months."
Shawn Payer, Technical Research and Sourcing Specialist
"I noticed a huge change in the market from 2020 to 2021 in terms of being able to successfully order parts or even find products with the promised components inside them. I sometimes wonder if it's a marketing scheme or the shortage. For example, if you look at the PlayStation 5 and XBox Series X, they have been consistently "sold out" for a year with only limited quantities available when stores do get the product. And on the few available units, the sale price is almost double the list price.
Every graphics card that has hit the market in 2021 has been immediately sold out; on the flip side a bunch of products (tablets and laptops) that were supposed to hit the market in early 2021 arrived without certain 'promised' chips in them. An example here would be the MediaTek T700 modem, which was advertised in September 2020 to be included in new HP and Dell laptops in early 2021. The Dell Latitude 9510 was to feature the MediaTek T700 but ended up going to market with Qualcomm's Snapdragon X20 Modem instead.
Meanwhile, MediaTek is now collaborating with a company called Fibocom on a modem FM350-GL which is said to use the same technology as the MediaTek T700 modem. Was the chip cancelled? Did chip shortages cause the huge delay?
Still other manufactures have announced new products, and have offered pre-orders with really long lead times like the Xilinx Versal AI dev kit. We pre-ordered in February 2021, and it has been delayed 3-4 times, now with a January 2022 release date.
The Big Island GPGPU was to be released this year to compete with NVIDIA and AMD, but the product has yet to hit the market. I can't say whether this is a marketing tactic or truly the result of a global semiconductor shortage, but when you look at the bigger picture, I suppose there could be many factors involved as to why technology hasn't been hitting the market around the promised time frames in 2021.
Automotive parts have been a struggle to find as well: infotainment units, ADAS controllers all typically available in the April/May time frame were not available until late fall 2021. Some are still hard to find unless you look at newer wrecked vehicles. I never noticed the impact of chip shortages nearly as much in 2020 compared to 2021. It's been a tough year!"
Judy Morris, Procurement Specialist
"2021 has been the most difficult to procure parts. As Shawn mentioned, whenever a new graphics card hit the market, it was sold out immediately. And it was then available on eBay for greatly increased prices.
Here it is near the end of 2021 and the automotive parts for 2021 vehicles are still very difficult to find. Our best option has been getting parts from salvaged vehicles.
Even monitors & computers have had very slow delivery dates. Cameras & speakers launch dates have been delayed.
The launches of many new devices have been pushed back for months & months.
Even lab supplies, gloves, etc. have had very long lead times this year."
Kim Waterman, Corporate Marketing Manager
"When a new and disruptive technology is released to market, news of it generally comes across my desk. "Disruptive tech briefs," as we usually call them, outline what makes a new technology disruptive – could be a new kind of technology, a new application of different chemicals, a more comprehensive solution than was previously available on the market, or a new major entrant in a well-established market.
In 2021 I have seen the fewest disruptive tech briefs of any year since I started working with TechInsights. Where some years have been major years of innovation, it seems that 2021 was a year more for incremental improvements. New ICs that we had expected to see have (possibly?) been quietly deferred to next year's flagship phones. And many major new developments that were rumored in 2020 are still rumors now at the end of 2021."
Thanks to all our contributors!
Don't miss another update from TechInsights
All our latest content updates sent to you a few times a month.
Latest Posts From Our Blogs