Motorola edge X30 teardown
Access the world's largest database of consumer electronics and semiconductor reverse engineering
Motorola promotes the motorola edge X30 phone as having "the fastest speeds, the highest resolution smartphone camera, the loudest audio, and the boldest display." So what technology is there to find behind the claims? TechInsights quick teardown answers some of these questions.
Qualcomm Snapdragon 8 Gen 1
As expected, we found the Snapdragon 8 Gen 1 SoC SM8450, which is reportedly fabbed in Samsung's 4LPE process – which would make this the world's first 4nm process node in the market.
Last year, we examined the Qualcomm Snapdragon 888 in the Xiaomi Mi 11 – the 5nm, which put Qualcomm in direct competition with the Apple A14 and the Exynos 2100.
We have several reports in progress on the latest-generation Snapdragon. Watch this space for more information on our analysis.
Design Wins in the motorola edge X30
Some of the notable design wins we have identified in this phone so far include:
a new Qualcomm QET7100
a new PM8450
a new Qualcomm Wi-Fi 6E SoC WCN6856 – we expect that this will contain the same die as the WCN6850/6851, and are and working to confirm
The partially annotated board shots accompanying this article provide additional design win information:
Related Analysis
Qualcomm Snapdragon 888 in the Xiaomi Mi 11
With their release of the Snapdragon 888, Qualcomm finds itself in competition with other 5 nm offerings - the Apple A14 and the Exynos 2100.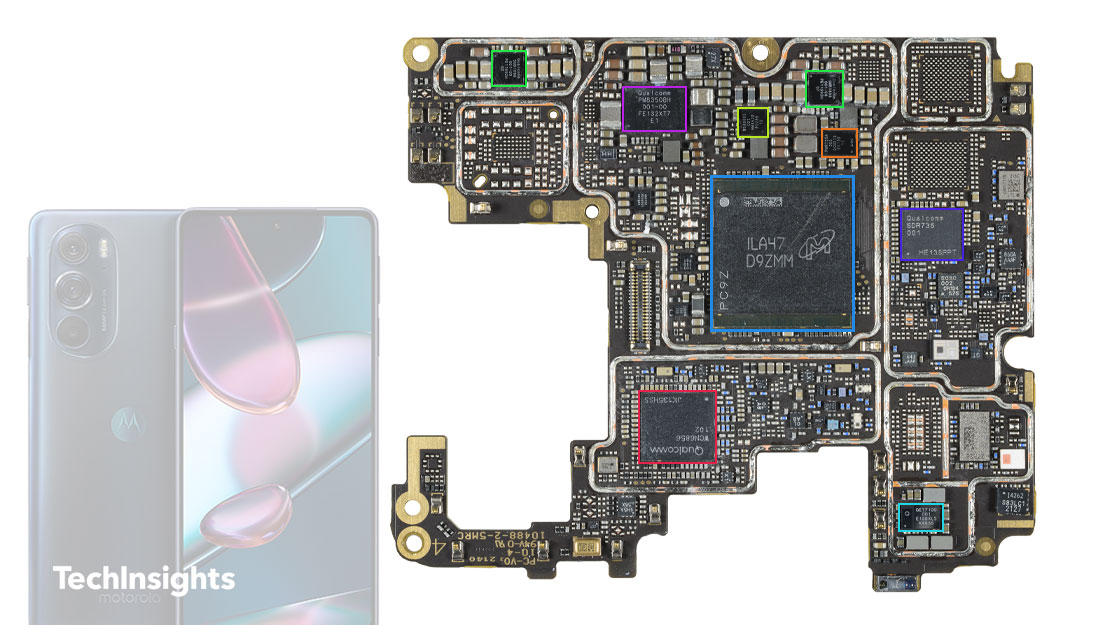 Figure 1. Motorola edge X30 board shot
  Qualcomm Snapdragon 8 Gen 1 SoC PoP (AP&Modem+Micron 12GB LPDDR5)
  Qualcomm SDR735
  Qualcomm PM8350BH-001
  Qualcomm Wi-Fi 6/6E WCN6856
  Qualcomm QET7100
  Qualcomm SMB1393 (x2)
  Qualcomm WSA8835
  Qualcomm PMR735A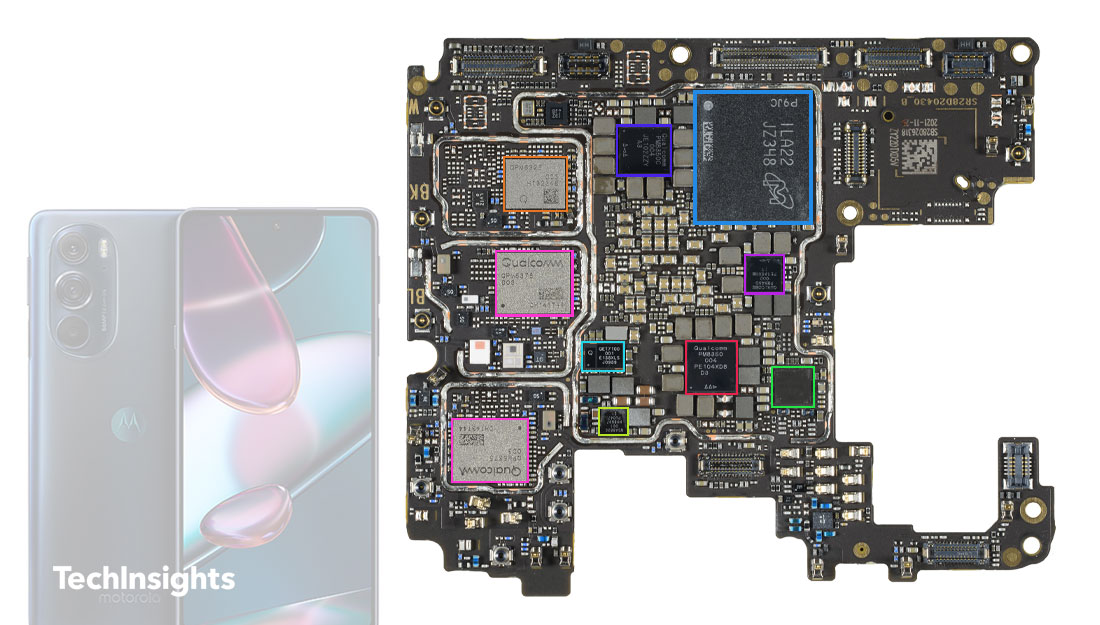 Figure 2. Motorola edge X30 board shot
  Micron 256GB NAND Flash
  Qualcomm PM8350C-004
  Qualcomm PM8450-000
  Qualcomm PM8350-004
  Qualcomm QET7100
  STMicroelectronics ST54J
  Qualcomm WSA8830
  Qualcomm QPM6325-003
  Qualcomm QPM6375-003 (x2)

What we are not seeing in the motorola edge X30
So far, there are a few things we thought we might have seen in this phone that we have not found. We have ordered different versions of the phone, so we will continue to dig, but it does seem that there are a few notable displacements, and possibly that some of the tech we had expected to see will be held back for future phones.
In the Snapdragon 8 Gen 1 chipset, we had expected to find a new RF Transceiver, but so far we have found the same SDR735 that was previously used in Snapdragon 4/7/8 series phones.
We have not yet found Qualcomm's QPM6679, which is said to include Qualcomm's new generation ultraBAW filter technologies.
Notably, we have not (yet?) seen Skyworks, Avago, or Qorvo parts in this phone. It could be that we have not yet identified them in the model of phone that we have, or it could be that they have not been included. We are working to confirm these details as well.
It seems the Motorola edge+ X30 has a few more tricks up its sleeve. We will continue our analysis of this phone and its components.
Latest Posts From Our Blogs