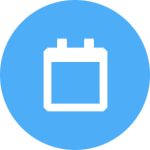 May 5, 2021   
Teardown Technology
A quick look inside the Apple Homepod Mini design wins, but is there a secret part waiting to be intialized?
The Apple HomePod Mini A2374 is a voice-interactive smart speaker with Siri assistant. It features four microphones delivered by Goertekand a capacitive touch pad on the top of the speaker (supported by sensor controllers from Analog Devices) that allows control of the device using different tap patterns.
The smart speaker is equipped with a single active speaker and dual passive radiators. The U1 ultra-wideband chip allows for a user with another U1 equipped device with Bluetooth turned on (such as an iPhone) to send audio to the speaker using Apple's handoff feature. The Thread connectivity allows the HomePod to communicate with other Thread-enabled smart HomeKitdevices.
Apple has the most design wins for the Apple HomePod Mini A2374. Apple supplied the 64-bit dual-core S5 APL1W82 application processor, which was introduced in the Apple Watch Series 5 in 2019. Apple also used its own 338S00553-A0/D2482A power management chip, developed in cooperation with Dialog Semiconductor, and 339M00117 WiFi/Bluetooth solution.
Supporting memory consists of 1 GB mobile LPDDR4 SDRAM and 32 GB 3D NAND Flash, integrated in a single package from SK Hynix.
Three separate antennas connected to modules delivered by Apple, USI, and Nordic Semiconductor support WiFi 802.11n/Bluetooth 5.0, UWB, and Thread connectivity, respectively. The audio amplifier and two capacitance sensor controllers were provided by Analog Devices.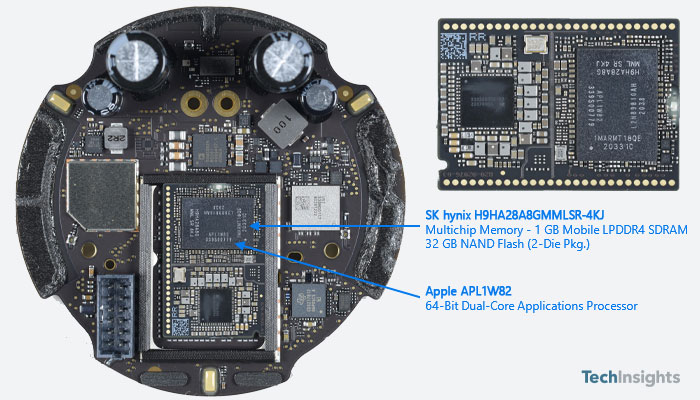 Apple Homepod Mini Board
Texas Instrumemts HDC2010 Humidity and Temperature Digital Sensor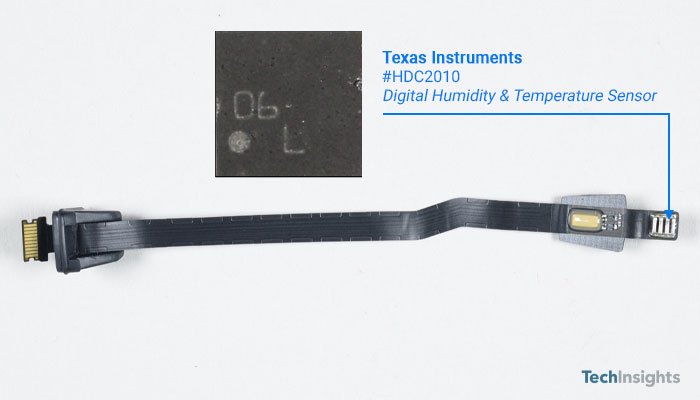 Texas Instruments HDC2010 Digital Humidity and Temperature Sensor
Texas Instruments offers the HDC2010 low power humidity and temperature digital sensor
Although not active as of yet, the Apple HomePod Mini has the Texas Instruments HDC2010 in place. Unlike the Texas Instruments TMP112B temperature sensor we found in the Amazon Echo Generation 4, the HDC2010 is both an integrated humidity and temperature sensor rated to have a 2% humidity reading accuracy directly from the factory.
"Texas Instruments' HDC2010 is an integrated humidity and temperature sensor that provides high accuracy measurements with very low power consumption in an ultra-compact wafer level chip scale package (WLCSP). The sensing element of the HDC2010 is placed on the bottom part of the device, which makes the HDC2010 more robust against dirt, dust, and other environmental contaminants. The capacitive-based sensor includes new integrated digital features and a heating element to dissipate condensation and moisture. The HDC2010 digital features include programmable interrupt thresholds to provide alerts/system wakeups without requiring a microcontroller to be continuously monitoring the system. This, combined with programmable sampling intervals, low inherent power consumption, and support for 1.8 V supply voltage, make the HDC2010 well suited for battery-operated systems." 1Source: Texas Instruments
Texas Instruments Temperature Sensors in both Apple HomePod Mini & Amazon Echo Generation 4
According to BNN Bloomberg, "If Apple eventually enables the sensor, it would bolster a smart-home strategy that has sometimes lacked focus and trailed those of rivals. Amazon.com Inc.'s latest Echo speakers have temperature sensors, while Google's Nest sells sensors that can be placed around homes and connect to its thermostats to adjust the temperature of each room."
Access the worlds largest database of consumer electronics and semiconductor reverse engineering
We enable technical teams to de-risk their product strategies, get-to-market faster with best-in-class designs and process technologies; make better product and pricing decisions, and win more competitive bids. Over 200 global leaders in semiconductors, electronics and software trust our insights to drive their technology innovation and decision making.
The authoritative information platform to the semiconductor industry.
Discover why TechInsights stands as the semiconductor industry's most trusted source for actionable, in-depth intelligence.