Teardown: Apple Macbook Pro 16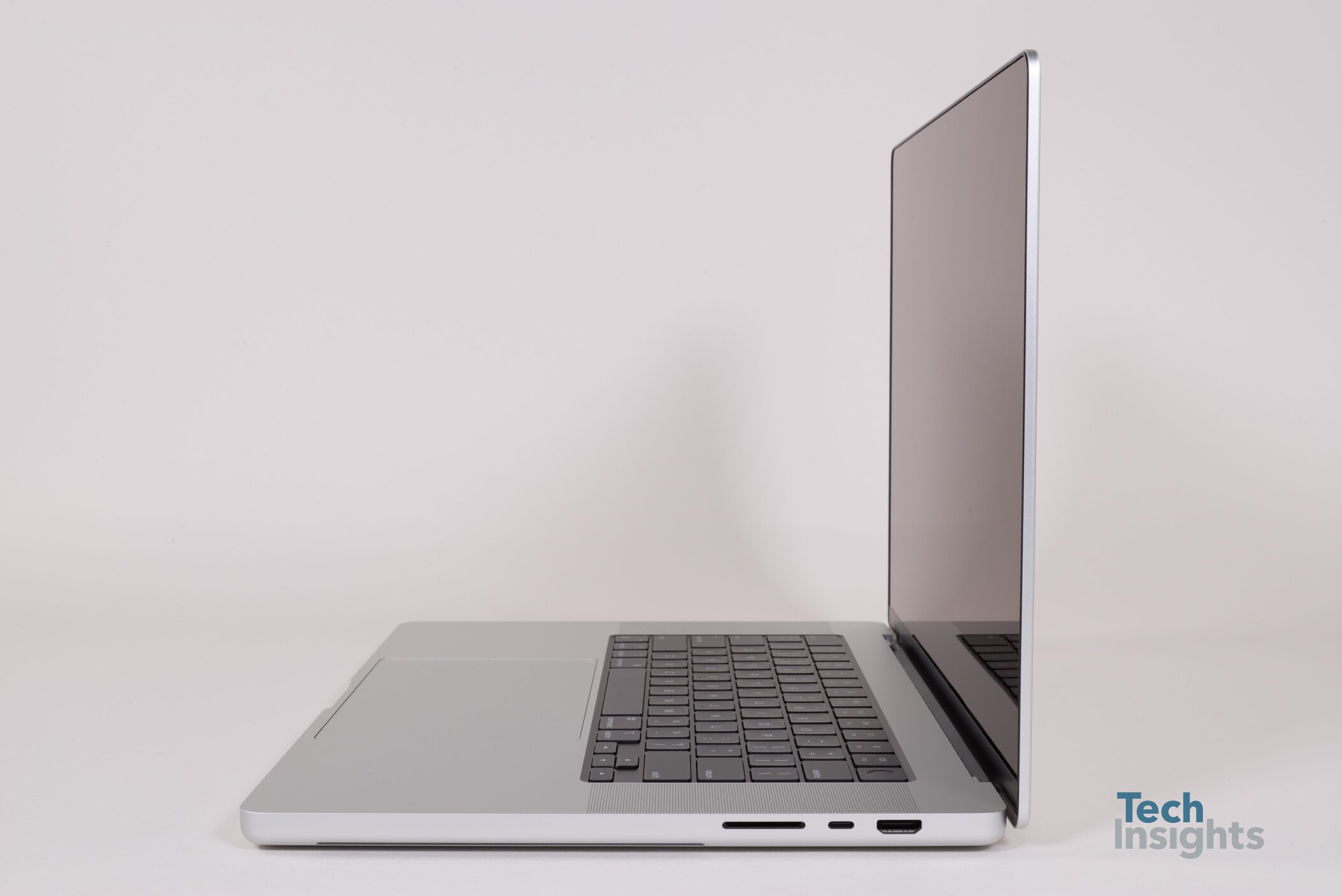 While Apple may be most famous for its handheld internet-enabled devices, its Macbook Pro line has been a steady supply of revenue for the company for many years.
The Macbook Pro has been a staple for many corporate IT departments for years as well as a popular notebook for consumers who use it for anything from photo or video editing to streaming and artwork.
The Macbook Pro 16 is the latest generation of Apple notebook that includes the latest Apple applications processor, touchscreen display and 16 GB of mobile SDRAM.
The following is a partial teardown of the Macbook Pro 16 by TechInsights.
Summary points
16.2 inch mini LED
16 GB mobile LPDDR2X SDRAM
2MP CMOS
64-bit deca-core applications processor
Target market:IT, consumer
Released:October 2021
Pricing:$2,699
Availability: Worldwide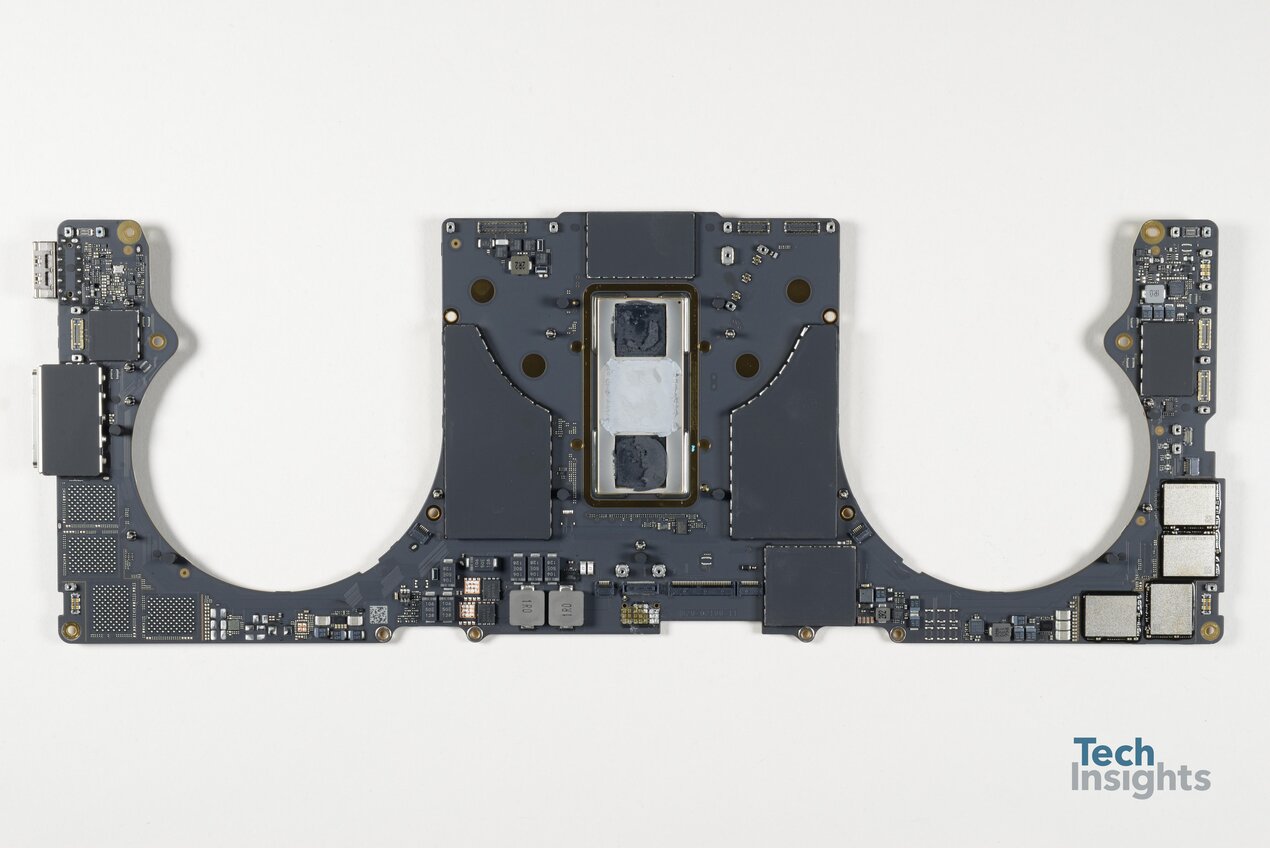 Main board
The main board houses the main processing power for the Apple Macbook Pro 16 notebook such as the 64-bit deca-core applications processor from Apple and the 8 GB mobile LPDDR4 SDRAM from Samsung. Other components include:
Apple's power management chip
Texas Instruments 10-bit DAC
Winbond's serial flash memory
Kioxia's 256 GB 3D TLC NAND flash multichip memory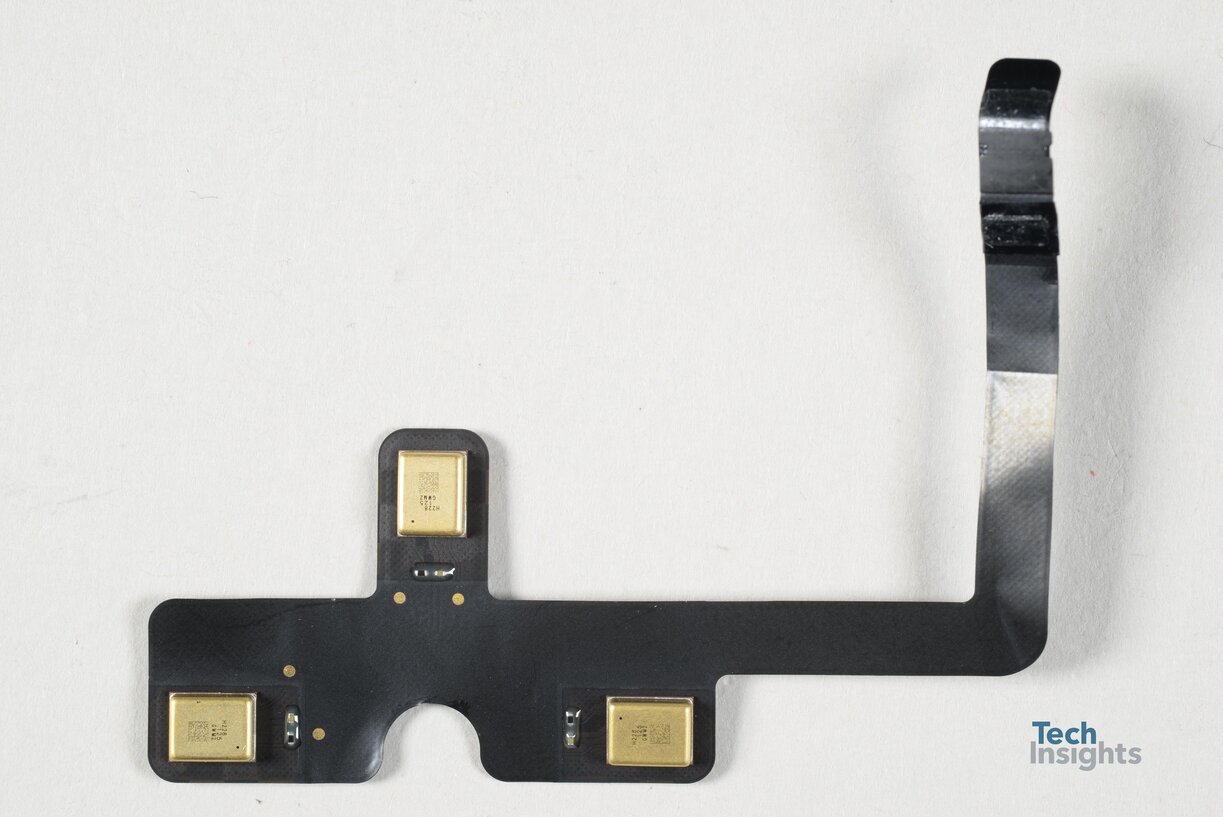 Microphone flex
The microphone flex board houses the components needed to communicate while video conferencing or streaming. The main component is a MEMS microphone from Goertek.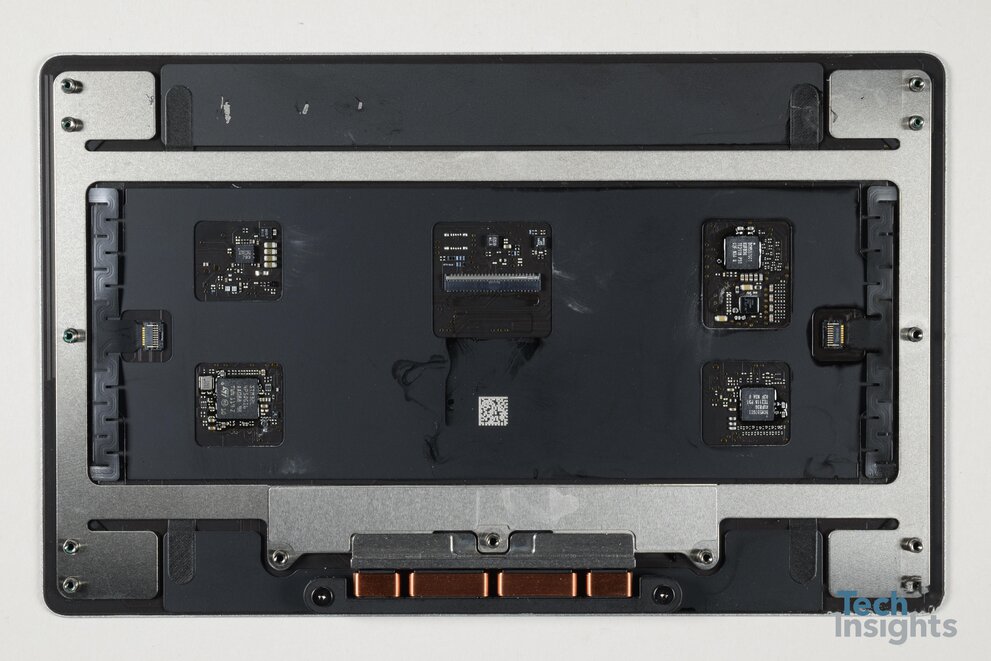 Touchpad board
The touchpad board includes the controller and components needed for consumers to use the touchscreen functions of the Apple Macbook Pro 16 notebook. Specifically, the components include:
An ARM Cortex-M4 32-bit MCU from ST Microelectronics
Texas Instruments' 2A load switch, voltage monitor and the remote and local temperature sensor
Broadcom's touchpad controller
Bosch Sensortec's three-axis MEMS accelerometer
Maxim's analog to digital converter and 1.252 V comparator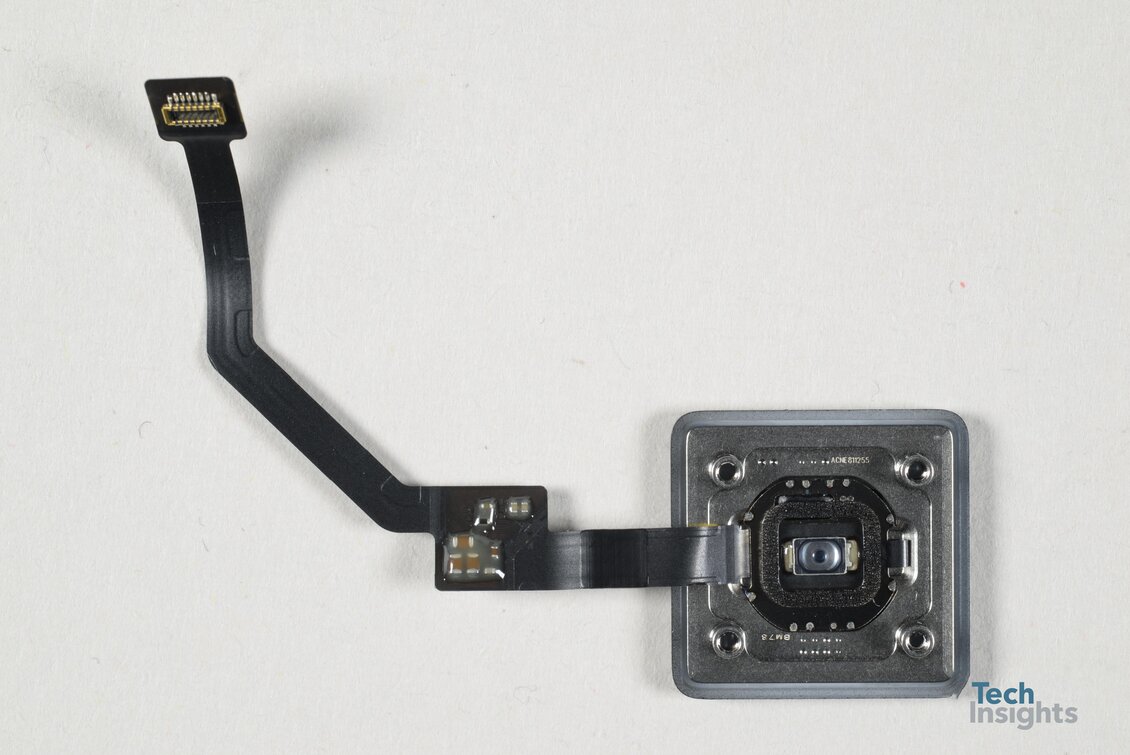 Fingerprint sensor
The fingerprint sensor contains the components needed to enable fingerprint identification on the Apple Macbook Pro 16. This includes the Touch ID capacitive sensor module from Apple.
Main components
$420.79 — 120 Hz display subsystem — LG (Qty: 1)
$237.30 — 64-bit deca-core application processor — Apple (Qty: 1)
$127.11 — Multichip memory — 256 GB 3D TLC NAND flash memory controller — Kioxia (Qty: 4)
$79.92 — Multichip memory — 8 GB mobile LPDDR5 SDRAM — Samsung (Qty: 2)
$70.93 — Battery subsystem — Huzhou Desay Battery Co. (Qty: 1)
$32.77 — Touchpad subsystem (Qty: 1)
$30.58 — 15 layer buildup FR4/HF Unimicron Technologies (Qty: 1)
$24.31 — Internal enclosure (Qty: 1)
$15.09 — Heat pipe with processor plate (Qty: 1)
$14.84 — Top enclosure (Qty: 1)
Subscribe to TechInsights Blogs
Join our list to get the latest blog posts directly in your email.
Sign up for latest analysis, news and insights from TechInsights!
Stay informed about TechInsights' products, services, and events. Email collection adheres to TechInsights' Privacy Policy.
Revealing the innovations others cannot inside advanced technology products
Contact
General Inquiries
1-888-666-8888
1891 Robertson Rd #500, Nepean, ON K2H 5B7
Copyright © 2023 TechInsights Inc. All rights reserved.