Sony d-ToF Sensor found in Apple's new LiDAR camera
Apple's LiDAR camera was first observed in 2020's iPad Pro; as expected, we saw that same part used in the iPhone 12 Pro in October. Industry experts expect that this part will be in use for the next few generations of Apple products.
Apple has been using single point time-of-flight (ToF) for several years in iPhone's front-facing proximity sensors, with direct ToF (d-ToF) technology originally sourced from STMicroelectronics. In more recent years, Sony developed array ToF using indirect ToF (i-ToF) technology. Now, Sony has developed the world's first array d-ToF near infrared (NIR) sensor for Apple's rear-facing LiDAR camera system.
Where many were expecting STMicroelectronics to win the d-ToF socket, Sony has been able to leverage its deep relationship with Apple in the imaging camera sockets to win the spot instead with this revolutionary technology.
The d-ToF sensor features several exciting firsts for Sony:
It is Sony's first single-photon avalanche diode (SPAD)-based sensor
The back-illuminated, stacked chip solution features pixel-level interconnects
The chip's configuration realizes chip-to-chip interconnects at each pixel through Cu-Cu direct bonding
TechInsights has already completed a substantial analysis of the Sony d-ToF sensor from Apple's LiDAR camera. Learn more about this part, our findings, and the analysis we have available by downloading our brief.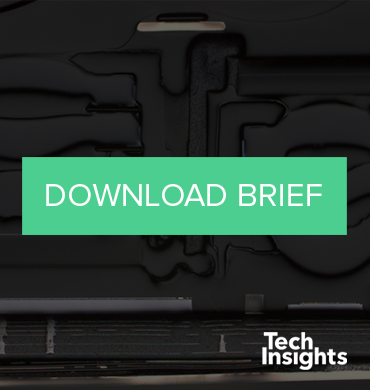 Aleady a subscriber?
TechInsights Image Sensor subscribers already have access to exclusive content in the TechInsights Platform.
Log in
Interested in a subscription?
TechInsights offers subscriptions to the broadest range of analysis and expert commentary. Contact us to learn about our many subscription offerings.
A TechInsights subscription gives you the data you need- instantly.
Sign up for latest analysis, news and insights from TechInsights!
Stay informed about TechInsights' products, services, and events. Email collection adheres to TechInsights' Privacy Policy.
Revealing the innovations others cannot inside advanced technology products
Contact
General Inquiries
1-888-666-8888
1891 Robertson Rd #500, Nepean, ON K2H 5B7
Copyright © 2023 TechInsights Inc. All rights reserved.