SiPearl Targets European Supercomputer
French startup SiPearl has received additional funding to complete the development of its Rhea supercomputing processor, which has changed considerable from its original specifications.
Joseph Byrne
The EU wants technological independence and aims to develop a supercomputer based on European technology. Via the European Innovation Council (EIC) and the Horizon Europe funding program, the EU has invested more than €40 million, including grants and a recent €15 million equity investment, in French startup SiPearl. Spun out of the EU-funded European Processor Initiative (EPI), SiPearl is working on the Rhea processor for exascale computing. The company reports that it has lined up another €80 million in Series A funding from European and other sources.
Rhea is an array of Arm Neoverse V1 CPUs with SVE-256 extensions. The memory subsystem includes 160MB of system-level cache, HBM2e high-bandwidth memory, and DDR5 DRAM. A security block accelerates cryptography and secures the platform.
SiPearl has also announced collaborations with Intel and Nvidia where customers can pair these companies' GPUs with Rhea. The company is also working with HPE on heterogeneous supercomputing designs that take advantage of the OEM's software expertise and Slingshot interconnect. Meanwhile, as one of the 28 EPI members, SiPearl contributes technology back to the EPI.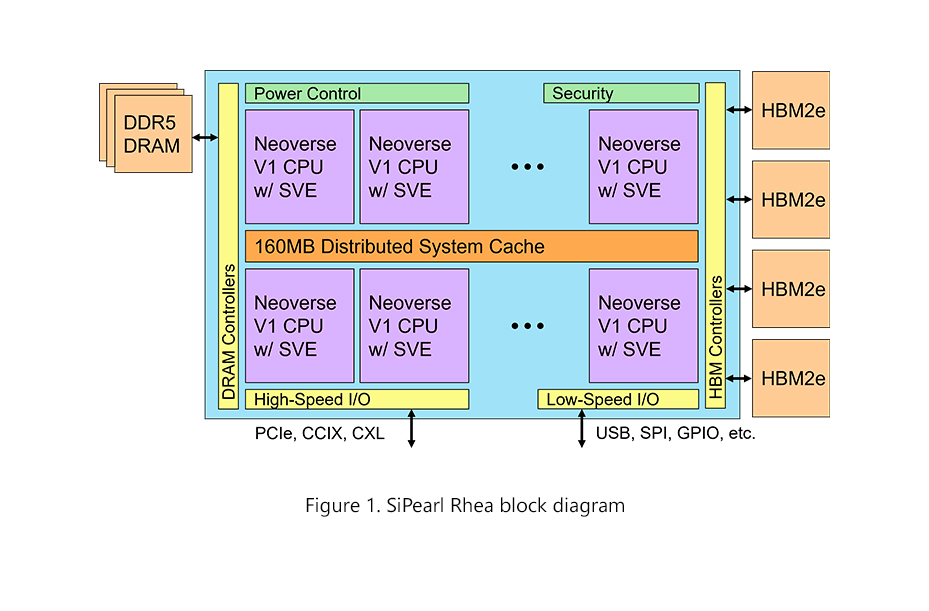 Free Newsletter
Get the latest analysis of new developments in semiconductor market and research analysis.
Subscribers can view the full article in the TechInsights Platform.
You must be a subscriber to access the Manufacturing Analysis reports & services.
If you are not a subscriber, you should be! Enter your email below to contact us about access.
The authoritative information platform to the semiconductor industry.
Discover why TechInsights stands as the semiconductor industry's most trusted source for actionable, in-depth intelligence.