Semiconductor Sales Take a Deep Dive
Semiconductor sales took a deep post-September dive last week. Though still above 2020, it was weaker than expected seasonality. Semiconductor Sales by segment were depressed as the hyper-jump off 2020's low bar began to tail off. Still, 13-Week moving averages are in the 20-to-50% range, with Auto ICs at the top followed by DRAM, NAND, Analog & Power, and Logic. Memory and Logic remain in an upward growth trend, indicating the upturn is in place. Slowing growth for Auto and Analog & Power is the morning hangover after the shortage. IC sales will close the year out close to $0.5T and Logic $1⁄4T.
The IC weather warmed 1°F last week. VLSI's IC Supply/Demand indices held at Tight last week with NAND & More-than-Moore Foundry improving a notch. There were slight improvements in DRAM and More-Moore Foundry, with no change in IDM and Analog & Power. OSAT and Auto were weaker. The 3Q21 Supply/Demand NowCast closed out in Balanced conditions.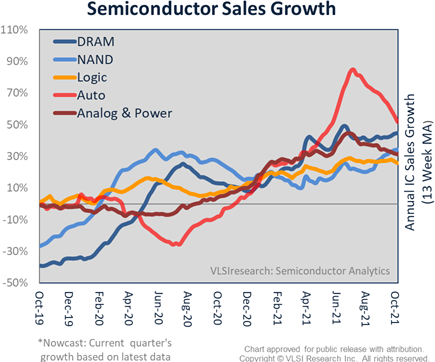 Sign up for latest analysis, news and insights from TechInsights!
Stay informed about TechInsights' products, services, and events. Email collection adheres to TechInsights' Privacy Policy.
Revealing the innovations others cannot inside advanced technology products
Contact
General Inquiries
1-888-666-8888
1891 Robertson Rd #500, Nepean, ON K2H 5B7
Copyright © 2023 TechInsights Inc. All rights reserved.