Samsung's Strategy Shift and Why We Climb Exponentials
Samsung's Shift in Strategic Positioning of its Foundry group This month was treated with SFF, or the 2021 Samsung Foundry Forum. As expected, it was a technology tour de force. What was unexpected was a fundamental shift in strategic positioning. It is a shift that is very uncharacteristic of Samsung... From a technology perspective, Samsung has tended to approach foundry marketing from single vector, such as being the first to bring EUV to leading-edge process technology offerings (for 7nm at SFF in 1Q16) and GAA transistor structures (Gate All Around, 2Q17). Typically, Samsung is the first to show them on a public roadmap and then first introduce them as a key part of a new product offering, leaving it to others to announce similar 'firsts' later with keyword qualifiers. This year's first is that Samsung will move its 3-nano class GAA MBCFET™ to production in 2022...
Maxim: Exponentials are ever-harder to climb and even harder to get off. But the gains create giants. It is a mathematical principle that an exponential gets ever steeper as it progresses ... as Gordon Moore put it so well, "No exponential is forever ... but it can be delayed." This may be why Andy Grove concluded, "only the paranoid survive." Yet unlike mountains, which are climbed because they are there, great technologists climb exponentials because they are so difficult no one has ever climbed them before. One such great is Martin van den Brink. Once considering ASML's amazing history of accomplishments, Martin noted...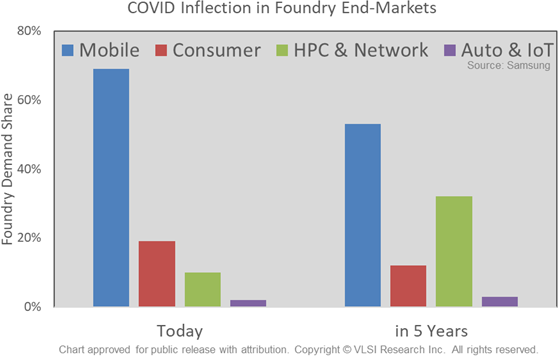 Sign up for latest analysis, news and insights from TechInsights!
Stay informed about TechInsights' products, services, and events. Email collection adheres to TechInsights' Privacy Policy.
Revealing the innovations others cannot inside advanced technology products
Contact
General Inquiries
1-888-666-8888
1891 Robertson Rd #500, Nepean, ON K2H 5B7
Copyright © 2023 TechInsights Inc. All rights reserved.