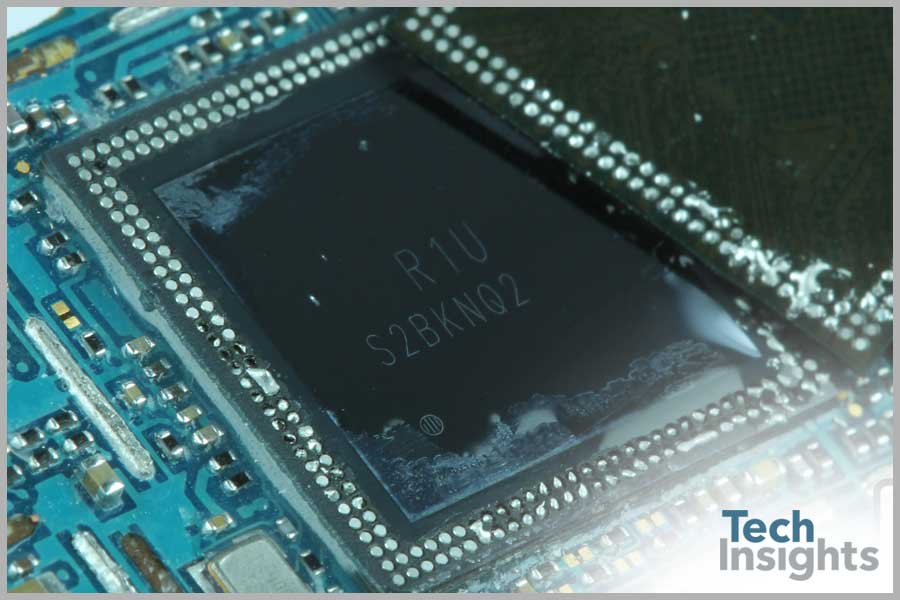 Samsung Brings Shannon into the Galaxy S5 Mini
Samsung brings their Shannon solution into the Galaxy S5 Mini, and by our observations this model already has FCC approval. The SM-G800F was first released in Russia, but with the FCC certification this device is ready to cross the Atlantic for use in the US, too.
There were a couple of rumours regarding the S5 Mini Baseband design win. Knowing Samsung has mixed application and baseband processors across the same product families (Galaxy S5 SM-G9008V and Galaxy S5 SM-G900H), we cannot discredit any of the rumours based on our quick examination of the SM-G800F. Analyst Michal Ksionek at TechInsights Europe could only verify the applications/baseband processor was not Intel or Qualcomm, but he also could not verify the Samsung processor by package markings alone. A Deep Dive analysis will get us closer to the identification of the mystery processor.
What we can say for certain is this is not the first time Samsung has brought a Shannon solution into a non-Korean device. Analysts at Teardown.com had found the same Shannon solution on the US release of the Galaxy Light SGH-T399 for T-Mobile back in 2013. Looking at the Samsung Galaxy Light phone, we quickly see the similarities between the Galaxy Light and the Galaxy S5 Mini SM-G800F.
Samsung Shannon Solution
|   | Samsung S5 Mini | Samsung Galaxy Light SGH-T399 |
| --- | --- | --- |
| Applications Processor | Shannon 222AP BBB | Shannon 222AP AA (Exynos 4412) |
| Baseband Processor | Shannon 222AP BBB | Shannon 222AP AA (Exynos 4412) |
| Power Management | Shannon 510 | Shannon 510 |
| RF MM Power Amplifier | TriQuint TQP9059S | TriQuint TQP9058 |
| RF Transceiver | Shannon 889 | Shannon 888 |
Samsung Galaxy S5 Mini Board Shots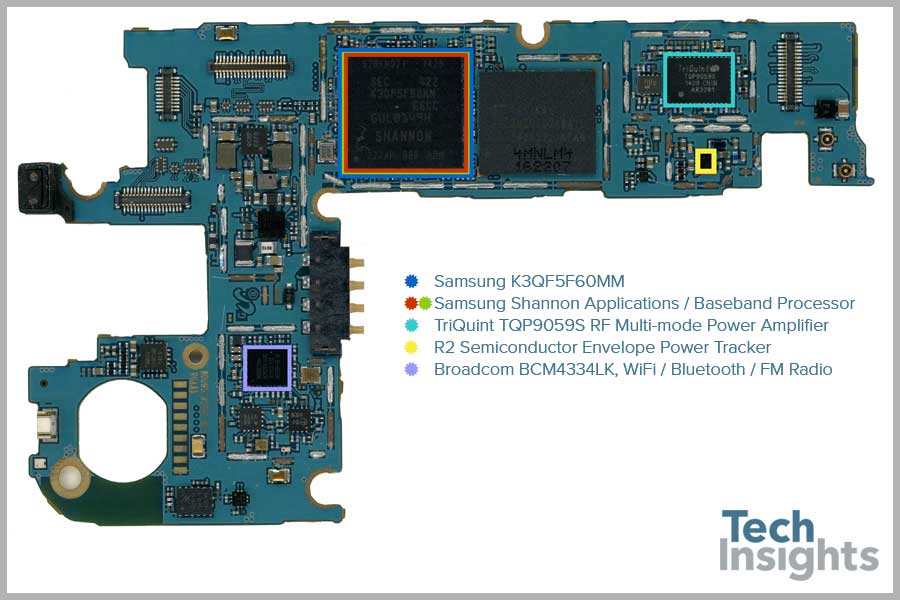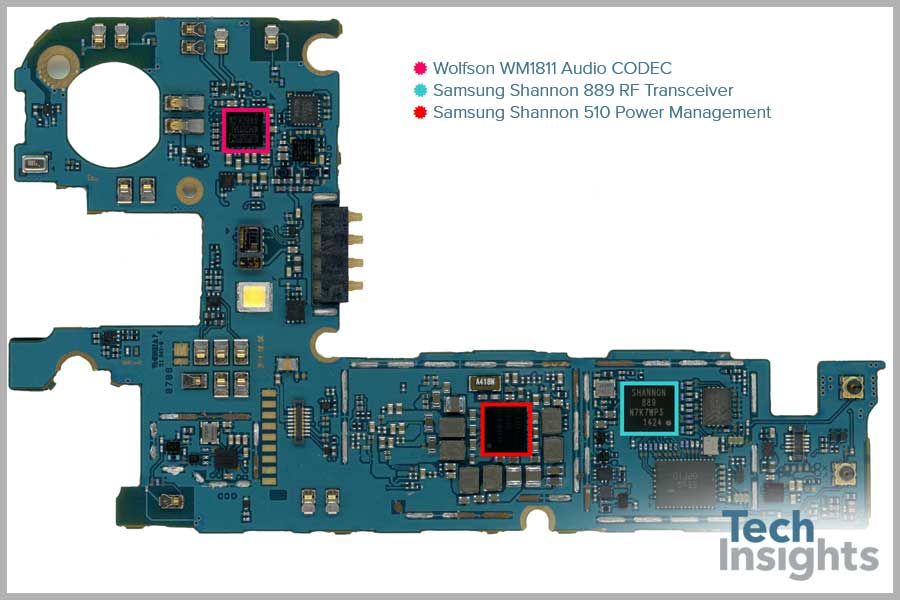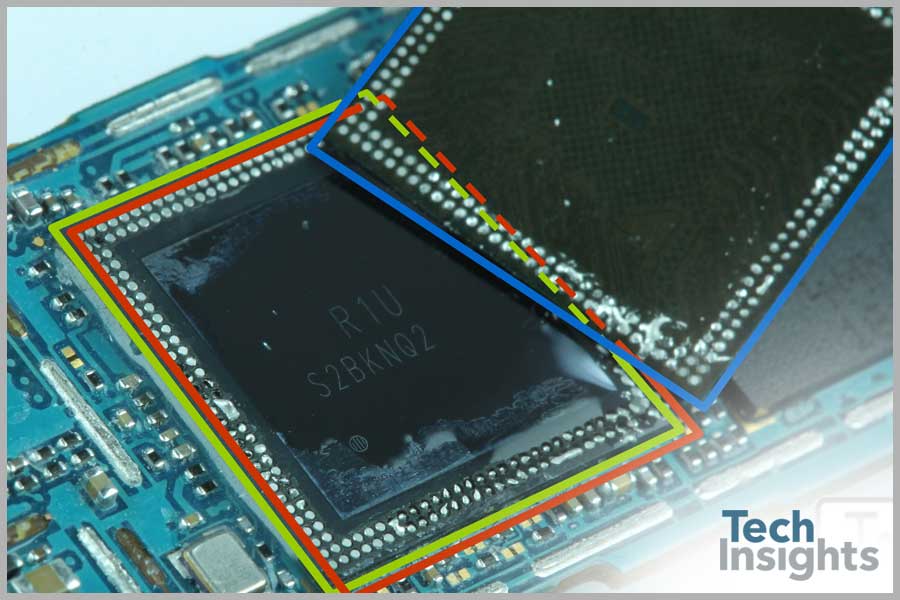 The Galaxy S5 Mini also mirrors the Samsung Galaxy Light with the use of the same Wolfson CODEC and the Broadcom BCM4334 WiFi/Bluetooth dual-band combo chip. However, unlike the Samsung Galaxy Light, the S5 Mini employs Envelope Power Tracking with the aid of R2 Semiconductor, a privately held company in Sunnyvale, California. The appearance of R2's chip is of interest because we have only seen Qualcomm's QFE110x envelope tracking chips in the devices we've analyzed which used envelope power tracking techniques.
Besides the 1.5 GB RAM, another notable find is Samsung uses Cypress Semiconductor's CYTMA545-48LQI36 for the S5 Mini's touchscreen controller instead of an Atmel touchscreen controller like they did in the past S3 and S4 Minis. Teardown.com spotted Cypress's smaller package CYTMA545-44LQI33ABA controller in the Samsung Gear Live Smartwatch in early July.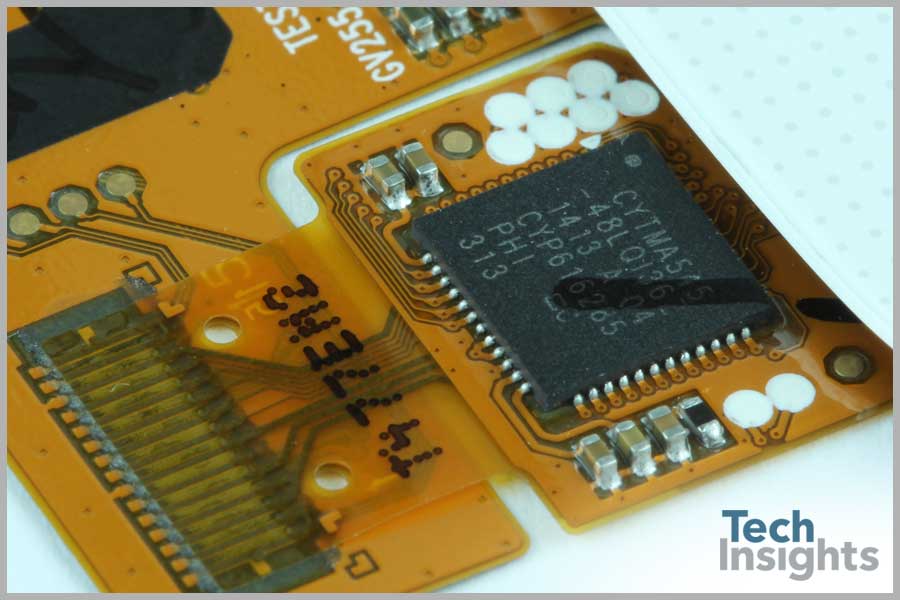 Comparing Touchscreen Controllers Across Galaxy Minis
|   | Samsung S5 Mini | Samsung S4 Mini | Samsung S5 Mini |
| --- | --- | --- | --- |
| Manufacturer | Cypress Semiconductor | Atmel | Atmel |
| Part Number | CYTMA545-48LQI36 | mXT336S | mXT224S |
The authoritative information platform to the semiconductor industry.
Discover why TechInsights stands as the semiconductor industry's most trusted source for actionable, in-depth intelligence.