Samsung Galaxy S21 – rival 5 nm solutions, new design wins, and LPDDR5 with 1z EUV?
Right from the release announcement, it seemed the Samsung Galaxy S21 flagship phone was going to be a little bit different. First, the phone was due to be announced in February 2021 and have its debut in March, but in a surprising turn of events Samsung ramped up their schedule to make the smartphone available in January.
From there, it seemed that the phone might include chips and devices that represent incremental improvements vs. revolutionary changes. But then, as happens so often in our labs, we started looking closer into the different models of S21 on the market, and found surprise after surprise…
Here is a brief overview of our findings so far. TechInsights subscribers already have access to our analysis in progress on the parts mentioned below.
At the initial publication date of this article (February 2, 2021), the phones that we have torn down so far (namely the S21 Ultra and the S21) are powered by the Exynos 2100. We are still awaiting the phones from the US market, which are powered by the Snapdragon 888 and support mmWave bands.
We have seen the Snapdragon 888 in the Xiaomi Mi 11 phone, but not yet in the Galaxy S21. Early findings mentioned here relate to what we have seen so far in the Exynos 2100 version phones.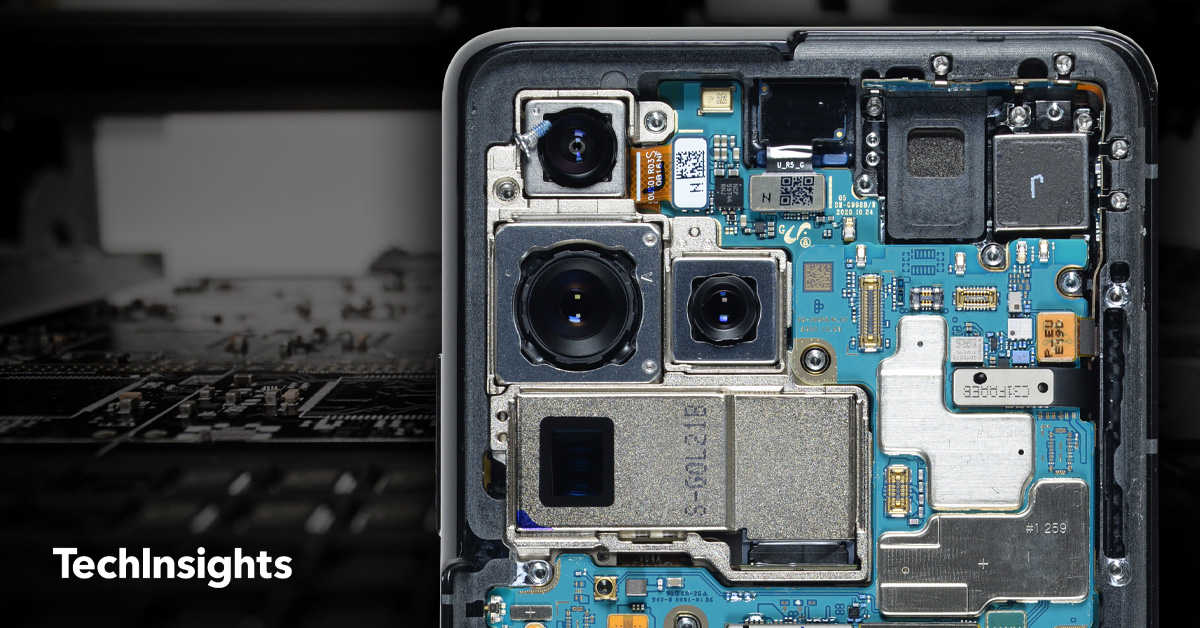 February 9 updates from our Teardown team
Our Teardown team has been working tirelessly to identify the components of the different models in the Galaxy S21 flagship series. Here are some of their observations on the cameras.
Technically, the Samsung Galaxy S20 Ultra and the Galaxy S21 Ultra have the same number of cameras. In the S21 series, Samsung did not just 'upgrade' last year's components, they made some key changes. This year Samsung dropped the rear 3D depth camera, meaning they only kept depth camera system for two generations of their high-end Galaxy S-series flagship models. In the Galaxy S10 5G the estimated 3D camera subsystem price was $6 USD (rounded up). And in last year's Samsung Galaxy S20 Ultra, the 3D Depth camera price did not change much from the Galaxy S10 5G. In both 3D cameras, we identified Sony ToF Image Sensors with Sony VCSEL driver ICS.
Click here if you are interested in learning more about ToF Image Sensors.
In the Samsung Galaxy S21 Ultra, the 3D Depth camera is replaced by a second, 10 MP telescope camera. We have not identified the image sensor at the time of this writing.
Something else we are keen on opening up is the periscope designed 10 MP telescope camera which replaces last year's periscope 48 MP telescope camera. But how far back do periscope cameras go? Well, TechInsights has in its library many of the first mobile phones to hit the market, and one of those early phones is the Sharp 902SH analyzed in 2005. What is special about the Sharp today, is the Sharp 902SH was the first mobile phone to have a periscope camera design. To put things in "perspective", any typical engineering college student graduating this year would have just started elementary school when the Sharp 902SH hit the market in 2004. Fifteen years later, Huawei found a creative way to add a periscope design into their Huawei Mate 30 Pro. The new periscope design was a solution to a challenge most all mobile phones have today – physical space limitations to allow for camera's long focal lengths. Soon after, Oppo officially released the Oppo Reno 10X Zoom Edition, and then Samsung released the Galaxy S20 Ultra with a Sony 48 MP image sensor.
Because the periscope design is not new, the reason we are eager to analyze the new S21 Ultra's telescope camera is because the new camera has a 10MP sensor, which may seem like a step down in camera specs. But there is more to cameras than just the megapixel size - the lens assembly is very important, too. As comparison, the iPhone 12 Pro and iPhone 12 Pro Max have 12 MP camera systems for all three of the rear cameras.
Samsung Exynos 2100 and Qualcomm Snapdragon 888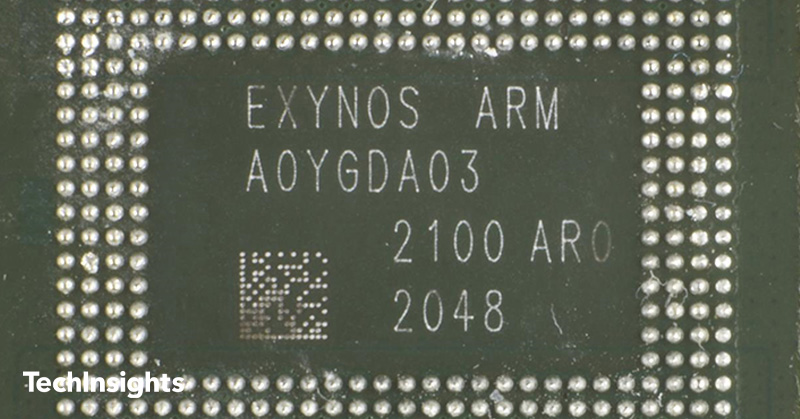 As we have seen in the last few Galaxy-series phones, the Samsung Galaxy S21 again adopts two cellular platforms for different models of the phone: Samsung's own Exynos 2100 and Qualcomm's Snapdragon 888.
The Samsung Exynos 2100 5G SoC (with the Application Processor and Modem integrated in a single die), is fabbed in Samsung's 5nm CMOS process, known as 5LPE. This is the second 5nm process we have seen in mass production, following TSMC's N5, which TechInsights analyzed in the Apple A14 Application Processor and in the HiSilicon Kirin 9000 5G SoC.
The Exynos 2100 is also the first Samsung 5G SoC that Samsung has used in its own Galaxy S series phones (they do have the Exynos 980 5G SoC, but it was not used in the previous Galaxy S or Note series phones).
Interestingly, the Exynos 2100 is also Samsung's second 5nm fabbed 5G SoC, following the Exynos 1080 5G SoC which TechInsights found in the Vivo X60 smartphone just a few days before the Galaxy S21 teardown.
TechInsights subscribers
Log in to the TechInsights Platform to read Dick James' blog "snapdragon 888 on Samsung 5LPP now in-house"
Log in
12 Gb Samsung LPDDR5 D1z with EUV Lithography!
In the 12 Gb model of the S21 Ultra, we have found a new 12 Gb LPDDR5 die. On early examination, we can confirm it is Samsung's new D1z.
Samsung Electronics has developed their D1z 8 Gb DDR4, D1z 12 Gb LPDDR5, and 16 Gb LPDDR5 DRAM devices as well with higher performance. We found both D1z 12 Gb and D1z 16Gb LPDDR5 chips in the Samsung Galaxy S21 5G series; S21 5G, S21+ 5G and S21 Ultra 5G just released in January 2021.
Samsung D1z 12 Gb LPDDR5 chips are being used for Samsung Galaxy S21 Ultra 5G SM-G998B/DS 12GB RAM, while D1z 16 Gb LPDDR5 chips can be found from S21 5G and S21+ 5G 8 Gb RAM components.
We are now tearing down the 8 Gb LPDDR5 S21+ and other models, so we will have more findings to update.
February 4 update: Finally! We confirmed the Samsung D1z 12 Gb LPDDR5 DRAM with EUV Lithograhy! We will provide additional updates as we learn more about this part.
In terms of primary image sensors, the Samsung S21 Ultra is almost at par with the previous Galaxy S20 Ultra; the front-facing camera of the S21 Ultra utilizes the same image sensor as the S20 Ultra, a 40MP resolution, 0.7µm pixel pitch Samsung-made sensor. The rear-facing cameras (telephoto and periscope) in the S21 Ultra also re-use sensors seen before.
What's new here is the rear-facing Wide camera. While the S21 Ultra Wide camera uses 108MP resolution, 0.8um pixel-pitch sensor as in the S20 Ultra. Samsung's 3rd 108MP / 0.8um sensor, and their 2nd found in use in Samsung flagship phones, is the new S5KHM3.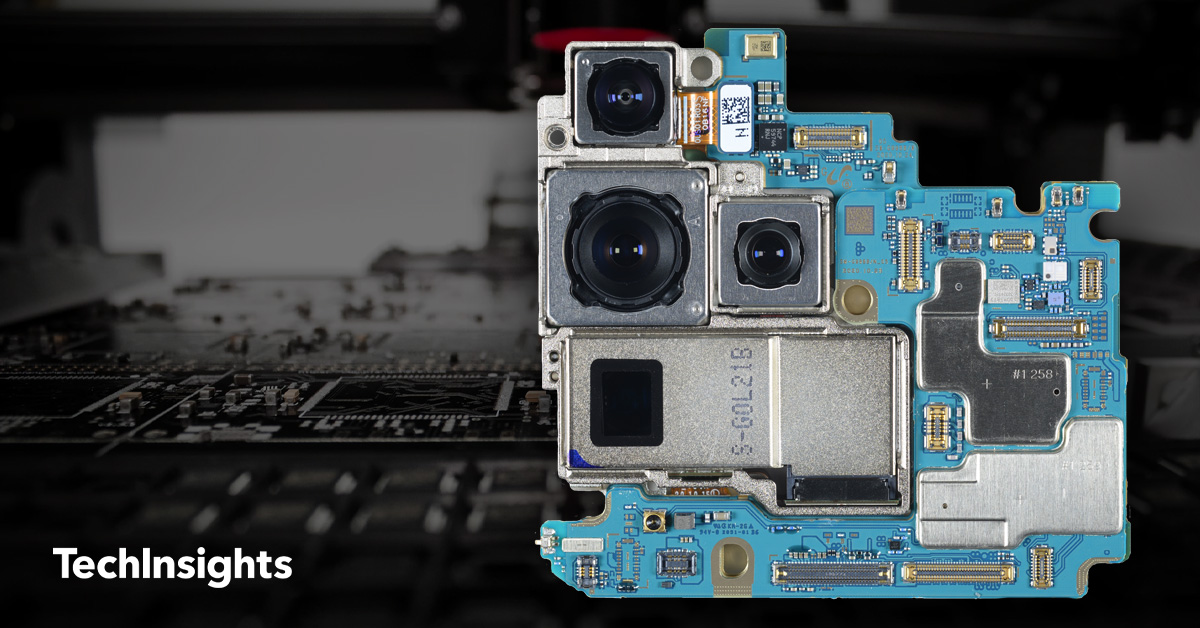 Other new devices we are looking at in the S21
There are several devices we are examining more closely in the Galaxy S21, including:
RF: We have found a new RF Transceiver, the Samsung Shannon 5511. We have confirmed that the die has a new floorplan design.
IoT: We are analyzing the Samsung Electro-Mechanics Wi-Fi/Bluetooth module, and suspect it may contain the Broadcom Wi-Fi/Bluetooth SoC. The NFC controller is Samsung's own, and we are working to determine whether it contains a new die.
Our analysis of the Samsung Galaxy S21 and its components continues.
We will update our blog over the coming days.
Aleady a subscriber?
TechInsights Teardown subscribers already have access to exclusive content in the TechInsights Platform.
Log in
Interested in a subscription?
TechInsights offers subscriptions to the broadest range of analysis and expert commentary. Contact us to learn about our many subscription offerings.
Learn more
A TechInsights subscription gives you the data you need- instantly.
Latest Posts From Our Blogs
Don't miss another update from TechInsights.
All our latest content updates sent to you a few times a month.