Re-Globalizing the Semiconductor Industry. Maxims for a Downturn.

G. Dan Hutcheson
The Chip Insider®
Re-Globalizing the Semiconductor Industry: Governments are not pursuing DE-Globalization. They are trying to RE-Globalize the semiconductor industry. The term is something I conjured up but bear with me. The Chips acts of both the EU and US face a common criticism from pundits: The semiconductor industry is inherently global. Efforts to de-globalize it is a folly. Japan tried to do it in the 70s and 80s and failed. So did South Korea when they tried in the 90s. China's experiment to centralize chip manufacturing there since 2015 is far below the trajectory needed to reach their 2025 goals. But when people talk about DE-Globalization, they typically visualize the global trade routes between producing areas. The focus is on transactions, not the many layers of production in the supply chain. What was truly deglobalized over the span of 5 decades was leading-edge wafer fab production. This occurred for a variety of reasons, but no one can challenge that by the 2010s the bulk of such manufacturing had gone to Taiwan and South Korea. This was especially true after 2015…
Maxims for a Downturn: Companies throughout the semiconductor world have started to question if their long-term strategic plans are compatible with the dark clouds they see on the horizon. All they've had to do is watch TechInsights Manufacturing Analysis' weather get worse by the week. Semiconductors are the extreme sport of business. They are to business, what F1 is to racing. As with F1, nothing matches its high g-force cornering, accelerating, and braking. It's very easy to lock up your brakes going into a downturn. You're lucky if you're not stuck in the kitty-litter, waiting to be acquired or out of business completely. If not, then you've flat-spotted your tires and must waste time in the pits as everyone passes by. Accelerate too hard in the upturn and you carry too much speed into the corner and you're also off in the kitty-litter. The long tail of semiconductor companies ranked by revenue or out of the business is littered with former great leaders. The lesson here… decisions today in the face of a dark 2023 may well be regretted in 24/25 when the next upturn comes. With that in mind, here are three Maxims …
You'll never save your way out of a downturn
It is always more profitable to have excess capacity than to be short of capacity
Cost management in a downturn determines who wins and who loses in the upturn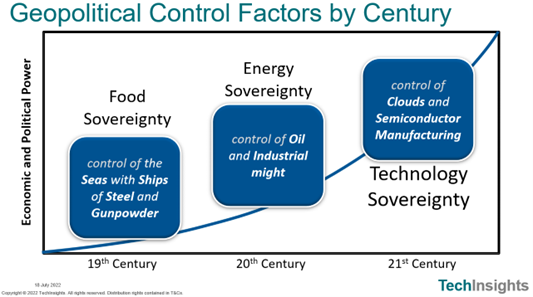 "If you don't like what's being said, change the conversation" — Don Draper, Mad Men
Click here to get more information about Semiconductor Chip Market Research Services
Free Newsletter
Get the latest analysis of new developments in semiconductor market and research analysis.
Subscribers can view more articles in the TechInsights Platform.
You must be a subscriber to access the Manufacturing Analysis reports & services.
If you are not a subscriber, you should be! Enter your email below to contact us about access.
Sign up for latest analysis, news and insights from TechInsights!
Stay informed about TechInsights' products, services, and events. Email collection adheres to TechInsights' Privacy Policy.
Revealing the innovations others cannot inside advanced technology products
Contact
General Inquiries
1-888-666-8888
1891 Robertson Rd #500, Nepean, ON K2H 5B7
Copyright © 2023 TechInsights Inc. All rights reserved.