Order activity increased for the first time this year

Shereen Vaux
Order activity for semiconductor equipment increased for the first time this year to 40°. The increase was driven by Other SoC, which jumped nearly 4°. Generative AI has been gaining a lot of traction this quarter as underlined by Nvidia's outlook. The company raised their guidance by a whopping $4B for 2Q23 thanks to strong demand from cloud service providers (CSPs), who have shifted their spending profile to AI-based servers. As a result, Logic sales are expected to fare better in 2023.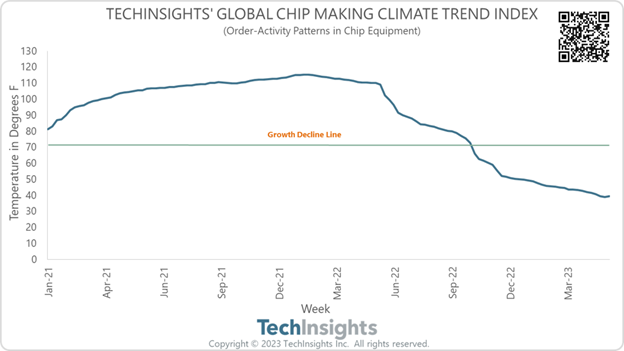 Free Newsletter
Get the latest analysis of new developments in semiconductor market and research analysis.
Subscribers can view the full article in the TechInsights Platform.
You must be a subscriber to access the Manufacturing Analysis reports & services.
If you are not a subscriber, you should be! Enter your email below to contact us about access.
Sign up for latest analysis, news and insights from TechInsights!
Stay informed about TechInsights' products, services, and events. Email collection adheres to TechInsights' Privacy Policy.
Revealing the innovations others cannot inside advanced technology products
Contact
General Inquiries
1-888-666-8888
1891 Robertson Rd #500, Nepean, ON K2H 5B7
Copyright © 2023 TechInsights Inc. All rights reserved.