The New Normal for Inventory. Fab-lite companies becoming Fabbed.

G. Dan Hutcheson
The Chip Insider®
The New Normal for Inventory: One of TechInsights' most important indicators is the Inventory-to-Billings ratio, or the IB ratio. Currently there is a general belief by many that inventories are too high and need to be burned off before we can get out of the slowdown. At least that's the view from America and Asia. Just coming off SEMICON Europa and Electronica, the view from Auto-centric Europe was …. But at the 35,786 km level, there has generally been an over-supply that started sharply in early June. Old-timers like me are extremely worried the over-exuberance levels of the past two years could lead us into a massive … the days before 2002. Personally, I'm not that worried in part because our Supply/Demand Heat map did show it abating more recently. Given the shift from Just-In-Time to Just-In-Case inventory control, this warming of Supply/Demand conditions begs the questions of
How bad is inventory, really? … and …
What's the new normal IB ratio?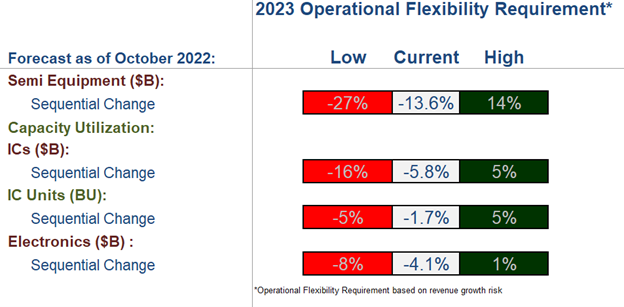 Happenings, Comments, Questions & Answers: Fab-lite companies becoming Fabbed. A new reason for this trend to emerge.
"History never repeats itself but it often rhymes." —as Mark Twain is reputed to have said
Click here to get more information about Semiconductor Chip Market Research Services
Free Newsletter
Get the latest analysis of new developments in semiconductor market and research analysis.
Subscribers can view more articles in the TechInsights Platform.
You must be a subscriber to access the Manufacturing Analysis reports & services.
If you are not a subscriber, you should be! Enter your email below to contact us about access.
Sign up for latest analysis, news and insights from TechInsights!
Stay informed about TechInsights' products, services, and events. Email collection adheres to TechInsights' Privacy Policy.
Revealing the innovations others cannot inside advanced technology products
Contact
General Inquiries
1-888-666-8888
1891 Robertson Rd #500, Nepean, ON K2H 5B7
Copyright © 2023 TechInsights Inc. All rights reserved.