Mobile RF Blog
Mobile RF Year in Review - Who Made Our Top Picks for 2022?
2022 has been a busy year in the mobile RF landscape. TechInsights' team of subject- matter experts and analysts have been hard at work identifying the key events, technologies, and design practices to include as part of the Mobile RF subscription – no small feat indeed! In consultation with our Subject Matter Expert, Radu Trandafir, Senior Circuit Analyst, John Sullivan, and Technical Product Manager, Van Thompson, here are the top highlights of 2022 and a few of our picks for 2023.
MediaTek's first mmWave chipset, Dimensity 1050, is making 5G mmWave more affordable
The Dimensity 1050 is MediaTek's first 5G mmWave chipset (see fig.1), announced in May 2022 for smart phones that cover both 5G FR1 and FR2 frequency ranges. TechInsights' experts discovered the Dimensity in the Moto Edge 2022, which aligns with MediaTek's direction of making 5G more affordable, rather than only making it available for the high-end top tier Android phones. This discovery impacts the 5G mmWave competitive landscape as MediaTek has now joined Qualcomm and Samsung as the only three mobile application processor SoCs with a mmWave solution.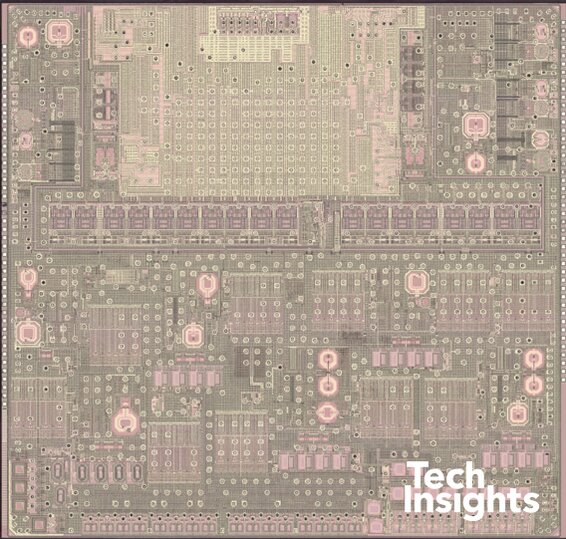 Figure 1: MT6195W FR1 transceiver die
From a technical perspective, the Dimensity 1050 SoC has lower power consumption, thanks to the ultra-efficient 6 nm class SoC using the TSMC production process, which improves smart phone battery life. It also supports Wi-Fi 6E which is the latest standard that supports tri-band connectivity, while also providing simultaneous connectivity to both FR1 and FR2, with seamless transitions from one air interface to the other.
How does supporting these capabilities (and more) affect the chip design? Analyses are currently in progress that cover multiple aspects of the chip's architecture— stay tuned for these upcoming reports:
Motorola edge 2022 MOTXT22053M Enhanced Block Diagram, EBD-2210-801
MediaTek MT6107O mmWave Antenna Module Architecture Analysis, MAR-2210-802
MediaTek MT6101W 5G mmWave RF Transceiver Floorplan Analysis, BFR-2210-803
MediaTek MT6101W 5G mmWave RF Transceiver Architecture Analysis, ARC-2210-802
MediaTek F60872A1_die (MT6107O Module) 5G mmWave RF TxRx Floorplan Analysis, BFR-2210-806
MediaTek F60872A1 die (MT6107O Module) 5G mmWave RF TxRx Architecture Analysis, ARC-2210-803
MediaTek BN10981AW_die (MT6107O Module) 5G mmWave PMIC Floorplan Analysis, BFR-2210-805
MediaTek BN10981AW_die (MT6107O Module) 5G mmWave PMIC Architecture Analysis, ETA-2210-801
RF Front End (RFFE) system in package (SiP) modules are key in addressing 5G challenges
Figure 2: SiP module components
Supporting 5G is more complex, as simultaneous support of 4G & 5G is needed. There are also more antennas and signal paths, more frequency bands to support, higher channel bandwidths required, and more power needed to overcome RFFE losses (just to name a few!). The prominent strategy used by market leaders, such as Broadcom, Murata, Qorvo, Qualcomm, and Skyworks, are RF FE SiP modules – self-contained, certified components with full receive and transmit paths that are easily integrated and ready to use by OEMs. To help you compare market-leading approaches, TechInsights has done module architecture and circuit analyses for key SiPs in the latest RF FE designs, such as:
Qualcomm QPM6679 Power Amplifier Module Architecture Analysis (MAR-2206-803)
Skyworks SKY58083-11 RFFE Module Architecture Analysis (MAR-2206-801)
Avago AFEM-8214 RFFE Module Architecture Analysis (MAR-2205-802)
For a deeper dive into related market trends and key decisions faced by OEMs when choosing components for mobile radio design, check out our webinar replay with Strategy Analytics (powered by TechInsights) – Who will dominate in RF? Smartphone RF Front Ends at a crossroad: Qualcomm, OpenRF, Skyworks, etc.
Take note of acoustic wave filters, a critical component in RF FE SiP modules like Skyworks SKY53838-17
Diving deeper into the components within an SiP, acoustic wave filters, surface acoustic wave (SAW), and bulk acoustic wave (BAW) are the top filter technologies from a performance and SiP integration perspective. All leading RF FE vendors have developed or acquired both the SAW and BAW filter technologies because in combination they provide coverage across low-, mid-, high- and ultrahigh-bands — one of the key challenges in supporting multiple bands in 5G. Key players in the acoustic wave filter market include top RF FE vendors like Broadcom, Murata, Qorvo, Qualcomm, and Skyworks, but there are also emerging Chinese RF FE vendors like Maxscend, Xpeedic, Allstar Electronics, and Wuxi Haoda who are in the process of ramping up on SAW filter technology. Stay tuned for more analyses to come!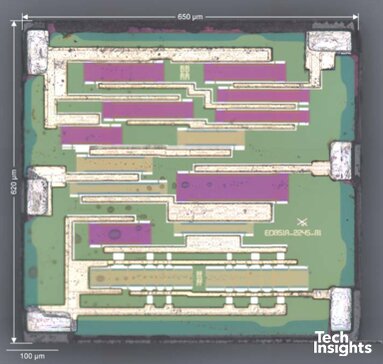 Figure 3: Acoustic filter
Design insight on mmWave antenna structures in the Apple iPhone 12 & 13 to help with antenna module implementation considerations for 5G smartphones
One of the (many) benefits of a Mobile RF subscription is the breadth of analysis coverage, across both market leaders and emerging disruptors, for a more accurate and realistic view of the competitive RF landscape. This provides more visibility and exposure to different design approaches used in the industry to help accelerate your own research and development. For example, TechInsights took a closer look at three mmWave antenna modules used by Apple in the iPhone 12 & 13, two passive and one active, that marked an interesting departure from the "traditional" Qualcomm-based architecture at the implementation level. For more details, check out MAR-2110-801 for analyses on the Murata 2CYY mmWave antenna in package (AiP) and Murata SS1707051 mmWave antenna module, as well as our in-depth webinar replay.
New Discovery in the Samsung Galaxy A53 – Murata SS1D14076

Figure 4: Top view of Murata AiP
Our experts uncovered a Murata AiP with Samsung silicon in the Galaxy A53, the first of its kind! This is an important discovery because it demonstrates a complete Samsung solution in a Murata package— both the application processor/baseband (AP/BB) system on chip (SoC) and FR1/FR2 radio are from Samsung, unlike the Google Pixel 6 Pro in 2021 which had Google Tensor as the application processor. For more details, check out the front- end module architecture report, MAR-2205-803.
Insight on Qualcomm's QTM545 mmWave AiP in 60 seconds? Yes, it's possible!
Qualcomm's QTM545 mmWave AiP is their fourth generation mmWave module used in the Samsung Galaxy s22 smartphone. This year, we introduced "60- second insight videos" to provide quick, but informative, overviews on the analysis we've done on noteworthy components before you dive into the report. John Sullivan (our Mobile RF Senior Circuit Analyst) highlights the key insights revealed in the Front End Module Architecture report such as the interconnectivity of the components and antenna arrays in our first 60-second insight video.
Some of our picks for 2023—Mobile RF roadmap
What's in store for 2023 and beyond? While plans are subject to change, our roadmap includes analyzing the RF chips found in some of these disruptive and/or flagship phones:
Samsung Galaxy S23 Ultra 5G
Motorola Edge 2022, includes MediaTek's Dimensity 1050 5G FR2 chipset
Vivo X90 Pro 5G, includes MediaTek's Dimensity 9200 chipset
Google Pixel 7 Pro
Apple iPhone 15 Pro Max
Mobile RF subscribers already have access to our latest roadmap—if you're interested in becoming a subscriber and gaining more competitive insight over the next 12 months, please contact us. TechInsights is looking forward to an exciting 2023!

Sign up for latest analysis, news and insights from TechInsights!
Stay informed about TechInsights' products, services, and events. Email collection adheres to TechInsights' Privacy Policy.
Revealing the innovations others cannot inside advanced technology products
Contact
General Inquiries
1-888-666-8888
1891 Robertson Rd #500, Nepean, ON K2H 5B7
Copyright © 2023 TechInsights Inc. All rights reserved.