IC Supply/Demand indices tighten

G. Dan Hutcheson
Semiconductor Analytics
Semiconductor sales continue to explode out of the normal Christmas roll-over with double-digit W/W and Y/Y growth, as IC Supply/Demand tightened up. The IC weather warmed 1°F last week. Zooming in on Logic this week, the 13-wk MA growth rose towards 20% for the second week. The 2022 Logic forecast is for sales to hit $275B and grow at 9%. Last week, Logic was third fastest in Y/Y growth. DRAM and NAND continued to be fastest. Auto ICs were in fourth, while Analog & Power was last. All remain well above TechInsights 2022 forecast.
Semiconductor Sales growth turned away from historic trend rates, bouncing off the 20% bar of thin-oxygen 13-week MA heights. This is a good 5% above what happened last year at this time.
TechInsights' IC Supply/Demand indices tightened last week, with More than Moore Foundry tightening up from Saturated to Loose. More Moore held, as did OSAT, NAND, DRAM, Auto ICs, and Analog & Power. There were slight improvements in DRAM, OSAT, Auto ICs, and Analog & Power. NAND was slightly weaker.
Electronics' Retail Prices are soaring.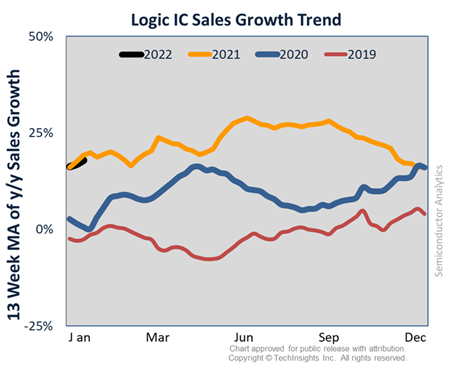 Free Newsletter
Get the latest analysis of new developments in semiconductor market and research analysis.
Subscribers can view the full article in the TechInsights Platform.
You must be a subscriber to access the Manufacturing Analysis reports & services.
If you are not a subscriber, you should be! Enter your email below to contact us about access.
Latest Posts From Our Blogs