Posted: October 26, 2017, Updated: November 15, 2017
Contributing Authors: Daniel Yang, Stacy Wegner
Typically we save these kinds of full-court-press teardown events for an Apple or a Samsung Galaxy, and no doubt we are gearing up for iPhone X quick-turn teardown this week, but today we are recognizing a mobile phone OEM who is now arguably number 3 in the world – Huawei Technologies.
If you are a Canadian hockey fan, you may have seen the Huawei P10 smartphone advertisement on CBC's famous Hockey Night in Canada program, which Huawei has been running since the 2016/2017 NHL playoff season. Huawei, which dominates the smartphone marketplace in China, has been steadily gaining in global popularity, and currently ranks as #3 in the world according to IDC. The company shipped 132.8 millions units of smartphones globally to end users in 2016, with a market share of 8.9%, after Samsung and Apple, according to market research company Gartner.
The Huawei Mate 10 will be using a new Application processor, the Kirin 970. The Kirin 970 is only the second application processor on the market that contains Artificial Intelligence (AI) computing capabilities, following the new A11 in iPhone 8, released in September. The Kirin 970 is reported to contain a neural processing unit (NPU). We will be taking a very close look at the Kirin 970 to identify the size and location of this NPU.
In last year's Mate 9, Huawei used an STMicro VL53L0X Time of Flight (ToF) sensor, moved to a dual Leica rear camera with 20 MP / 12 MP Sony stacked image sensors, and used a Synaptics TDDI display driver and integrated touchscreen controller in the display subsystem. This year's Mate 10 and 10 Pro are setting their sights on competing for buyers who may be tempted by the iPhone 8 and Samsung Galaxy S8 flagship phones.
(Regarding the ToF sensor in the Mate 10, we have located it, and lab work is underway to determine if this is the same (or a new) STMicroelectronics ToF sensor, or if it is from a new supplier. We will update this site as soon as further analysis has been completed.)
An interesting point of note is that Huawei is one of the world's two companies that are capable of using their own key silicon solutions for their smartphones. HiSilicon, which is a former Huawei ASIC Design Center that spun off in 2004, supplies AP (Modem embedded), RF Transceiver, Power Management IC (PMIC), Battery Charger, Envelope Tracker, and Audio Codec to Huawei's flagship smartphones.
Here is what we have found inside the Huawei Mate 10.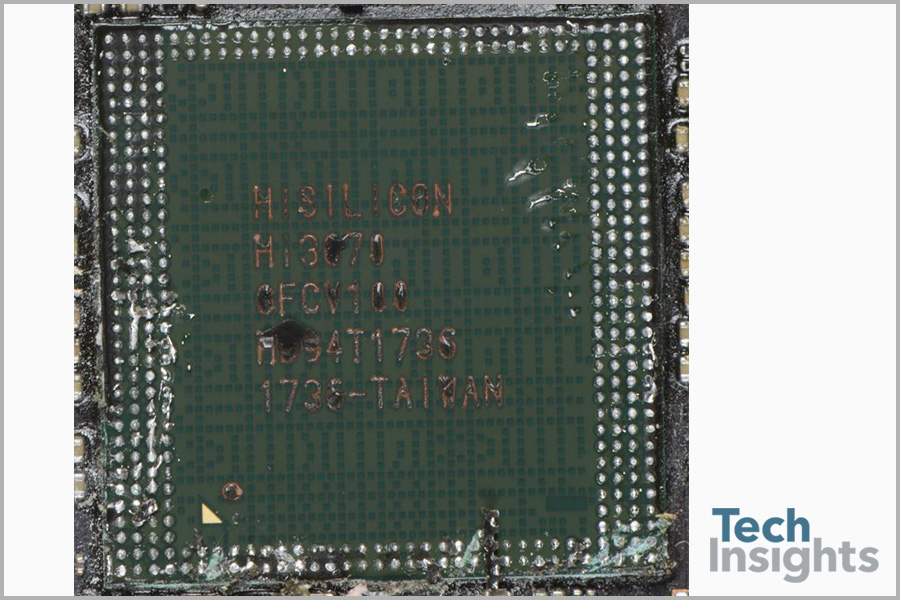 Application Processor: Kirin 970
Huawei has two flagship families, the P-series and the Mate-series. The Mate phones seem to drive innovation, with more successful features finding their way into the flagship Huawei P-series.
Like Apple iPhones and Samsung Galaxy S phones, Mate-series smartphones always adopt the newest-designed Application Processor (AP). The Huawei Mate 10 and the upcoming Mate 10 Pro mark the arrival of the anticipated HiSilicon Kirin 970 AP with a dedicated Neural Processing Unit (NPU).
Here are the package markings of the Kirin 970: Hi3670. The AP die is in a Package on Package (PoP) with DRAM. The package marks D9VQG can be decoded to a Micron part number MT53D512M64D4NZ-053 WT:D, which is a 32Gb (4GB) LPDDR4 (which might actually be LPDDR4X) SDRAM. The Kirin 970 has already been to our lab for decapping and polysilicon die photography to identify the key functional blocks.
The HiSilicon Kirin 970 has a die size of 9.75mm x 9.92mm = 96.72mm2, making it 18% smaller than the Kirin 960, with a die size of 10.77mm x 10.93mm = 117.72mm2.
The HiSilicon Kirin 970 feels familiar. The location of both CPUs, the GPU clusters, the DDR interface and its control logic, even certain analog interfaces remain the same as in the Kirin 960. We see once again the big, .LITTLE implementation with the same Cortex-A73+Cortex-A53 combination. This time, however, the big CPU is an outstanding 38% smaller, and the little CPU is 25% smaller.
The big CPU area has been optimized, through a reduction in the routing space and the voltage/clock references have been moved outside of the CPU macro. Looking at the single cores of the Cortex-A73's, the Kirin 960 Cortex-A73 measured 1.37 mm2 versus 0.83 mm2 of the Kirin 970. The shrink is 39%! For the Cortex-A53 cores, the shrink was 36%.
The GPU is quite interesting. It's the first commercial implementation of the ARM Mali G72 12-core, but it's not made up of 12 identical cores. Instead it is composed of two 6-core clusters, each cluster being unique. Compared to the previous ARM Mali G71, it is 19% smaller.
The LPDDR4 interface is 30% smaller, even its control logic is 32% smaller than in the Kirin 960
The NPU is a bit of a mystery. The Kirin 970 does not seem to have any major logic blocks tiled enough to be the obvious choice. We did find a logic block that looks rather interesting, which we have labeled NPU for now. Stay tuned as we look deeper into this NPU.
| Kirin Model | Kirin 960 | Kirin 970 | % changel |
| --- | --- | --- | --- |
| CPU1 plus cache (mm2) | 9.11 | 5.66 | 38 |
| CPU 2 (mm2) | 3.28 | 2.45 | 25 |
| GPU (mm2) | 22.28 | 18.04 | 19 |
| DDR interface (mm2) | 6.47 | 4.50 | 30 |
| DDR logic (mm2) | 7.83 | 5.34 | 32 |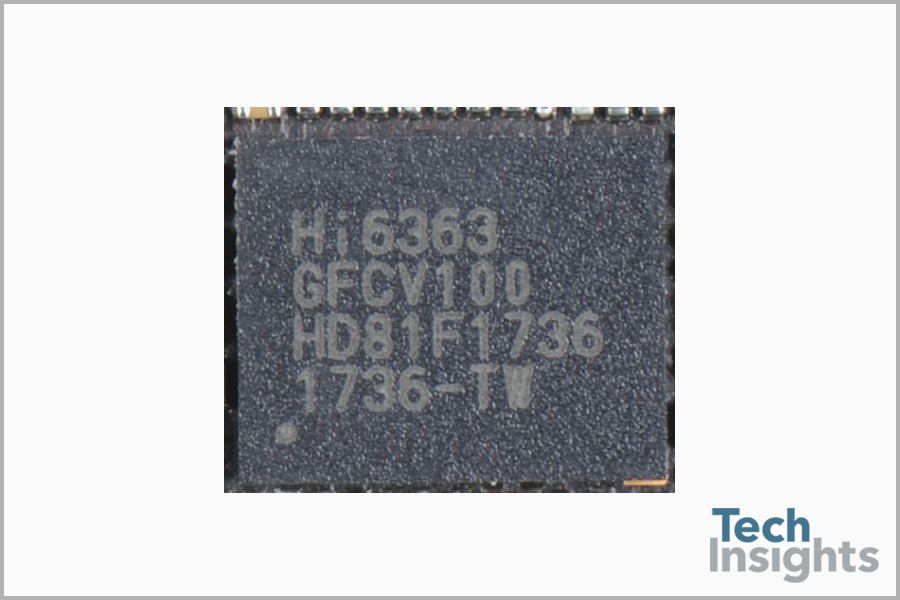 RF Transceiver: HiSilicon Hi6363
A new RF Transceiver Hi6363 is found in the Mate 10. Huawei claimed that the Mate 10 has a modem that supports Cat 18/Cat 13, so the HiSilicon Hi6363 RF Transceiver was presumably designed to serve the new LTE category.
PMIC: Hi6421, Hi6422, Hi6423
HiSilicon Hi6421, Hi6423, and Hi6422 Envelope Tracker.
Battery Charger:HiSilicon Hi6523, TI BQ25870
HiSilicon Hi6523, the same device used in the Mate 9. There is also a TI BQ25870 Flash Battery Charger found in the board.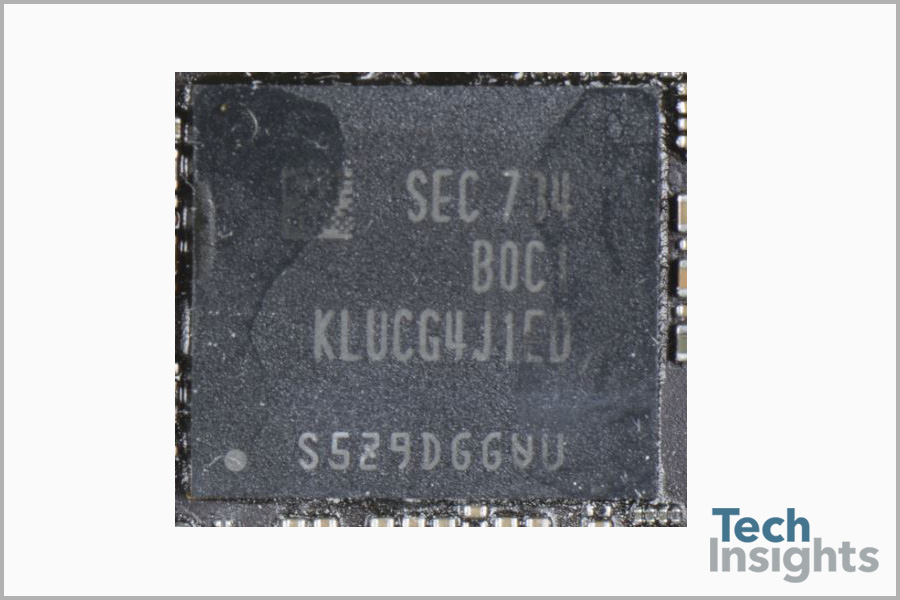 Memory: Samsung NAND Flash
Samsung supplies the NAND Flash memory KLUCG4J1ED-B0C1, which is a 64GB Universal Flash Storage (UFS).
NFC: NXP PN548
NXP wins the NFC Controller module socket. The NXP 55102 is NXP's PN548, which TechInsights has seen as design wins in many different brands of phones.
GNSS: Broadcom BCM47531
Broadcom BCM47531, Broadcom's fourth-generation multi-constellation Global Navigation Satellite System (GNSS) solution, fabricated in low power 40nm CMOS technology, and adding support for BeiDou (BDS) constellation.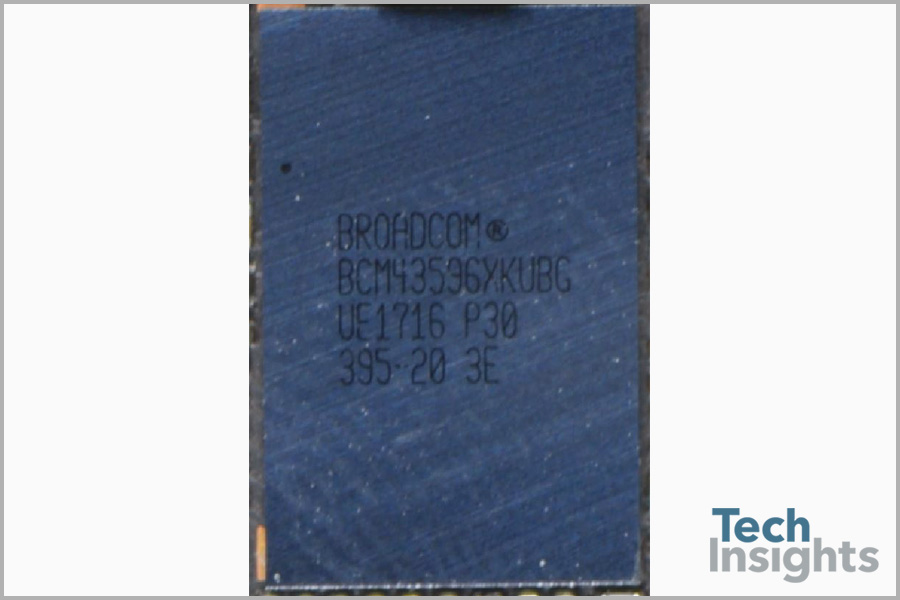 Wi-Fi: Broadcom BCM43596
Unlike the Samsung Galaxy S8, Bluetooth 5.0 is missing in the Huawei Mate 10. Instead Huawei uses the Broadcom BCM43596 Wi-Fi / Bluetooth SoC supporting only Bluetooth 4.2. TechInsights has seen it in a few Huawei and other brand phones, for example Huawei P10 and Asus Zenfone 3 Deluxe.
Audio ICs: HiSilicon Hi6403, NXP TFA9872
HiSilicon Hi6403 Audio Codec, 2 pcs NXP TFA9872 Audio Amplifiers.
RF Front-end: Qorvo RF5228B, Qorvo QM56022, Skyworks SKY85203
Qorvo RF5228B, Single Antenna Transmit Module. The transmit module integrates GSM/EDGE coverage and antenna switch functionality. Skyworks SKY85203 Antenna Switches. 2x HiSilicon Hi6H01 RF Switch/LNA.
Qorvo QM56022 RF Front-end Module.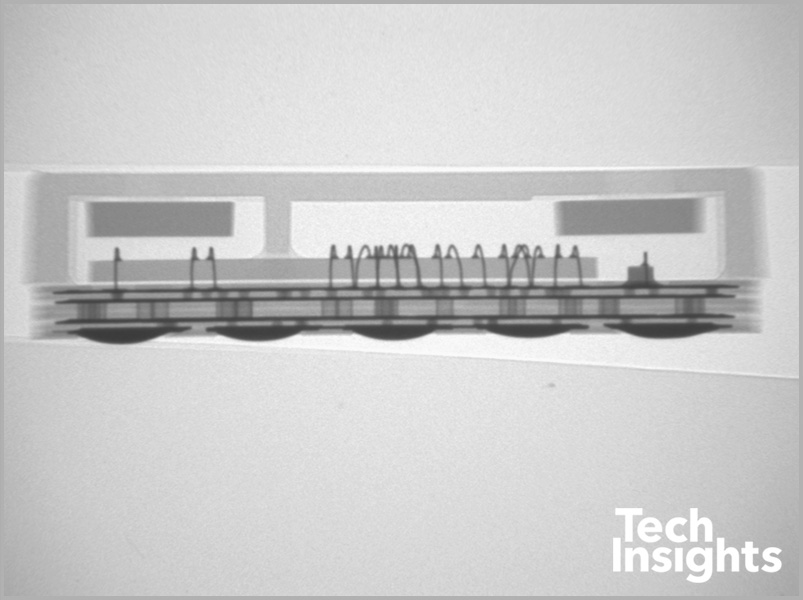 Sensors: STMicro, AKM, Goodix, AAC, GoerTek
STMicro wins the LPS22HB pressure sensor and LSM6DS accelerometer & gyroscope again. AKM wins AK09911 3-axis electronic compass again. We the same parts in the Mate 9.
We have seen the Goodix GF128A fingerprint support IC on the board. The fingerprint sensor itself should be from Goodix too.
AAC and GoerTek win the MEMS microphone sockets.
We have completed the analysis of the ToF sensor in the Mate 10 and confirmed it is the STMicroelectronics VL53L0B. The VL530B has scored more than 45 design wins since we first observed it in April of 2016. The below image shows the ToF sensor in a side view Xray. TechInsights has done further analysis on this device. Get the benchmark information you need to understand the fundamentals of this market-leading Time Of Flight Sensor.
Costing
Here is a high-level view into the costs of the various components of the Huawei Mate 10: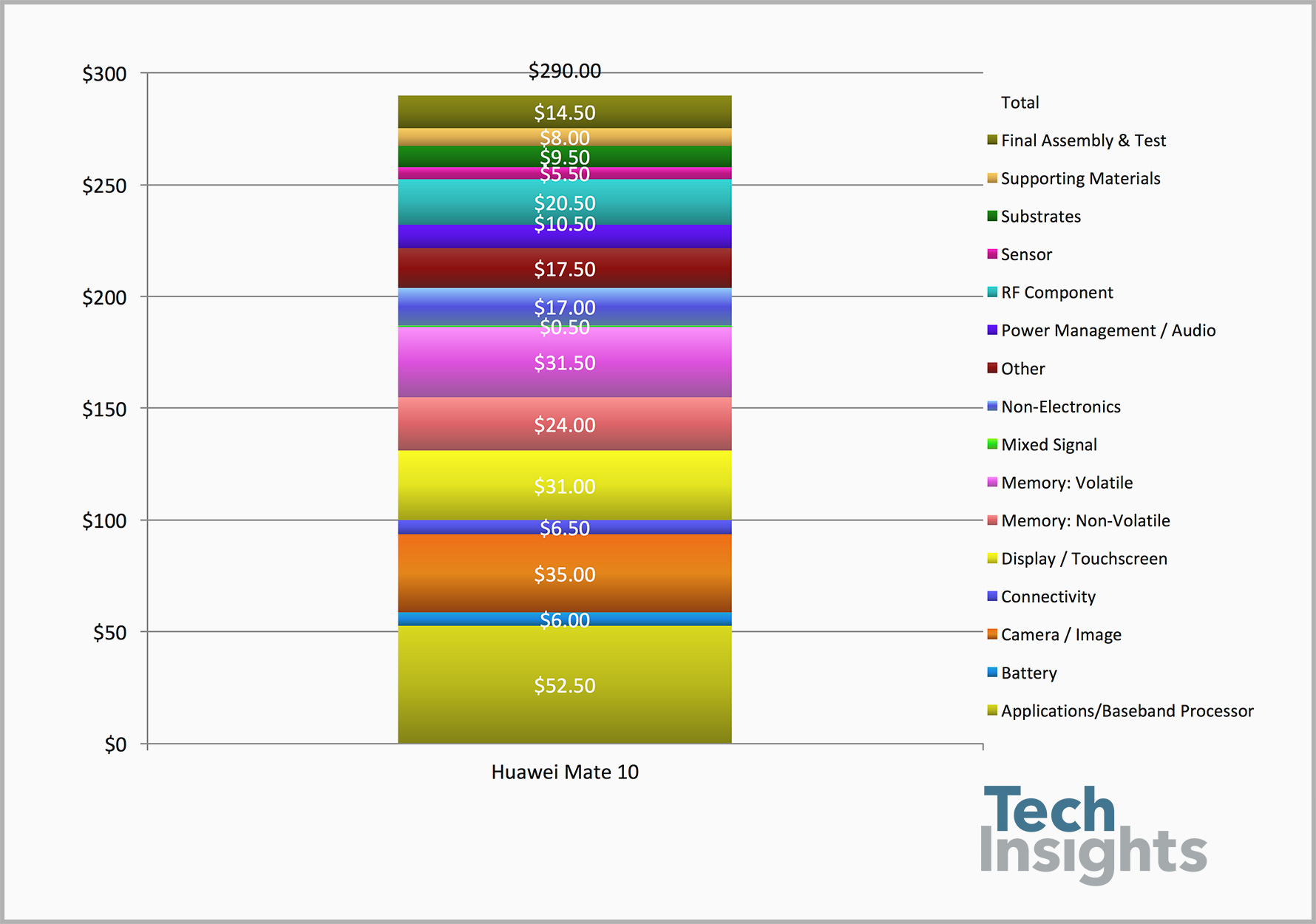 Huawei Mate 10
Teardown Date
October 2017
Applications/Baseband Processor
$52.50
Battery
$6.00
Camera / Image
$35.00
Connectivity
$6.50
Display / Touchscreen
$31.00
Memory: Non-Volatile
$24.00
Memory: Volatile
$31.50
Mixed Signal
$0.50
Non-Electronics
$17.00
Other
$17.50
Power Management / Audio
$10.50
RF Component
$20.50
Sensor
$5.50
Substrates
$9.50
Supporting Materials
$8.00
Final Assembly & Test
$14.50
Total
$290.00
* Costing note: All cost estimates provided here are compiled using information available to us at the time of the initial teardown. Some assumptions have been made where concrete data is not yet available. We will continue to gather and refine this costing data throughout our on-going deep-dive teardown process and analysis. While we do not expect drastic cost changes, we do expect some adjustments.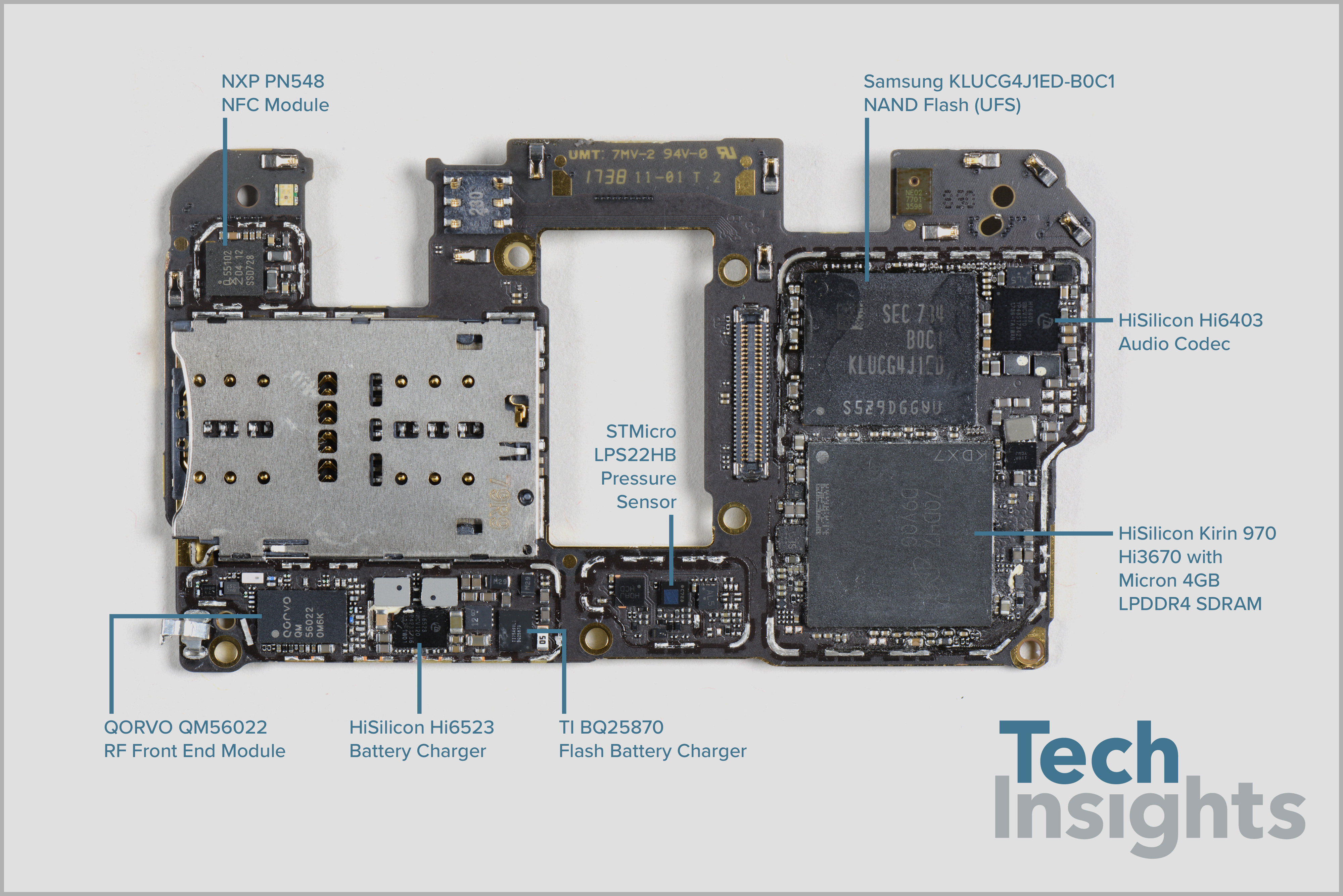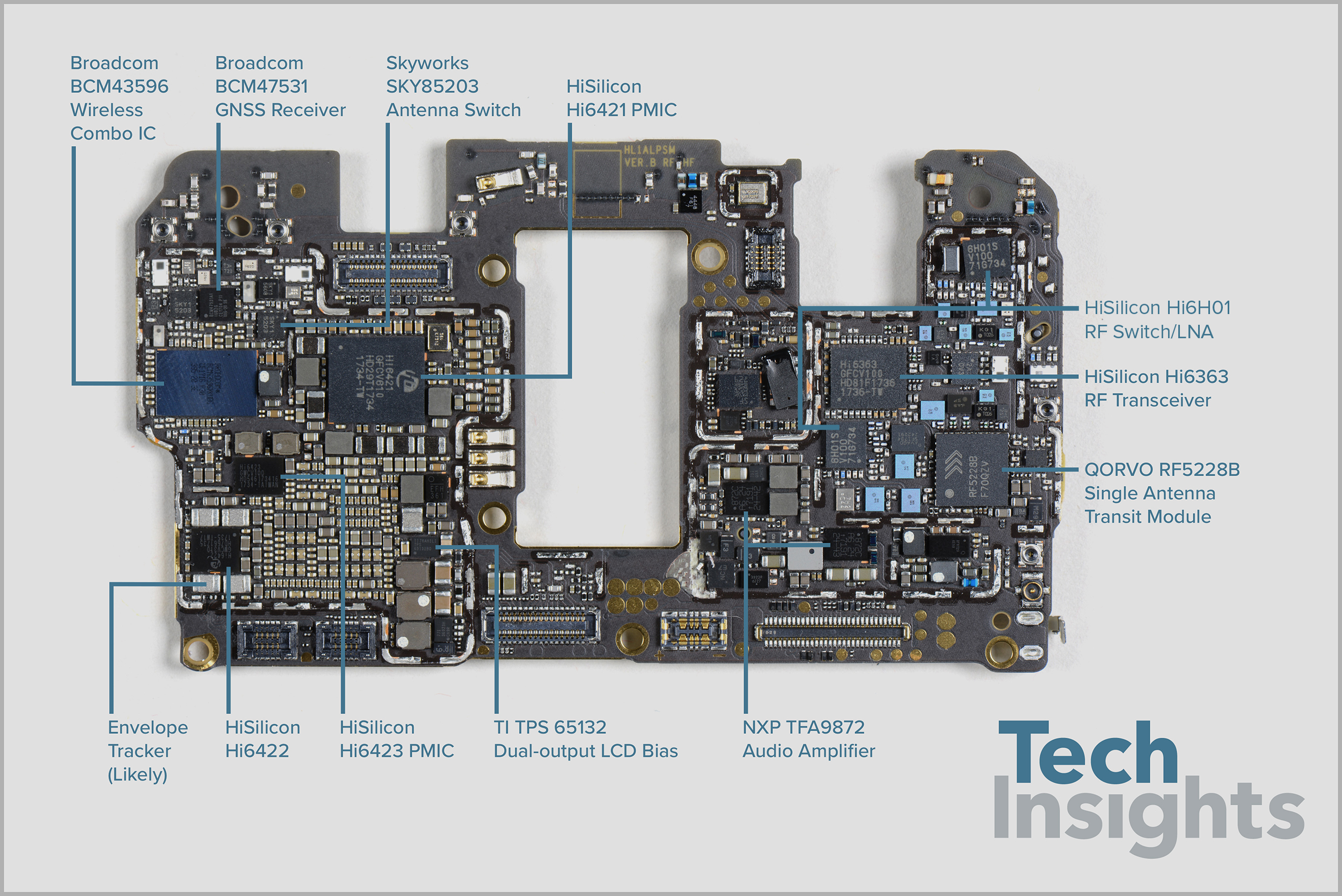 The images above are front and rear PCB images of the main board from the Mate 10. Many of the devices on the board are ones we have seen before, and some are new to us. We will be digging into this phone deeper in the days to come and update you on what we learn. We will also be publishing a Deep Dive Teardown report on the Mate 10.
Sign up for latest analysis, news and insights from TechInsights!
Stay informed about TechInsights' products, services, and events. Email collection adheres to TechInsights' Privacy Policy.
Revealing the innovations others cannot inside advanced technology products
Contact
General Inquiries
1-888-666-8888
1891 Robertson Rd #500, Nepean, ON K2H 5B7
Copyright © 2023 TechInsights Inc. All rights reserved.