Posted: December 10, 2018
Contributing Author: Daniel Yang & Stacy Wegner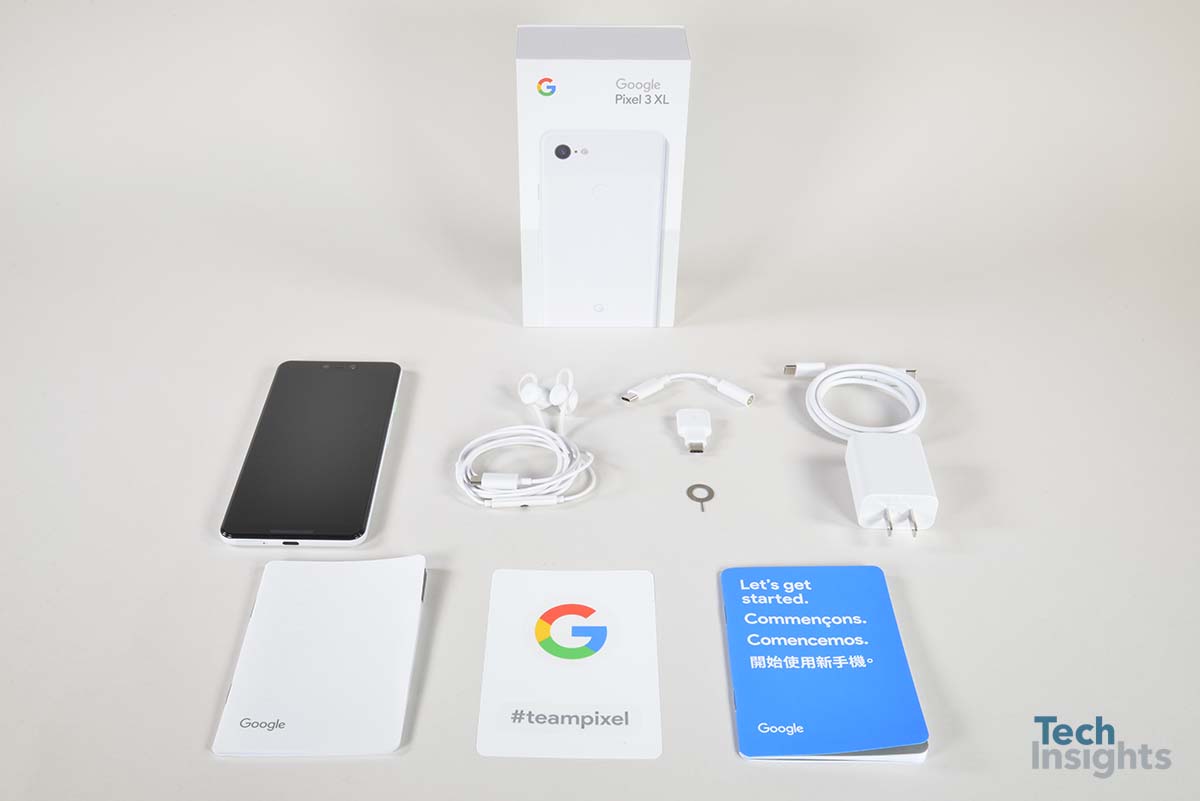 November 18, 2018 - the official launch date in the US, saw the release of the Google Pixel 3 and 3 XL, Google's most advanced flagship smartphone to date. While we have taken a little time in getting to the teardown analysis of this phone, it is certainly not for lack of interest.
We found some interesting surprises in this phone, including:
Google's custom-designed Titan M security processor
STMicroelectronics wins the ambient light sensor socket
STMicroelectronics wins the secure MCU socket
This teardown blog focuses on model number G013C, a 6.3 Clearly White phone, 64 GB.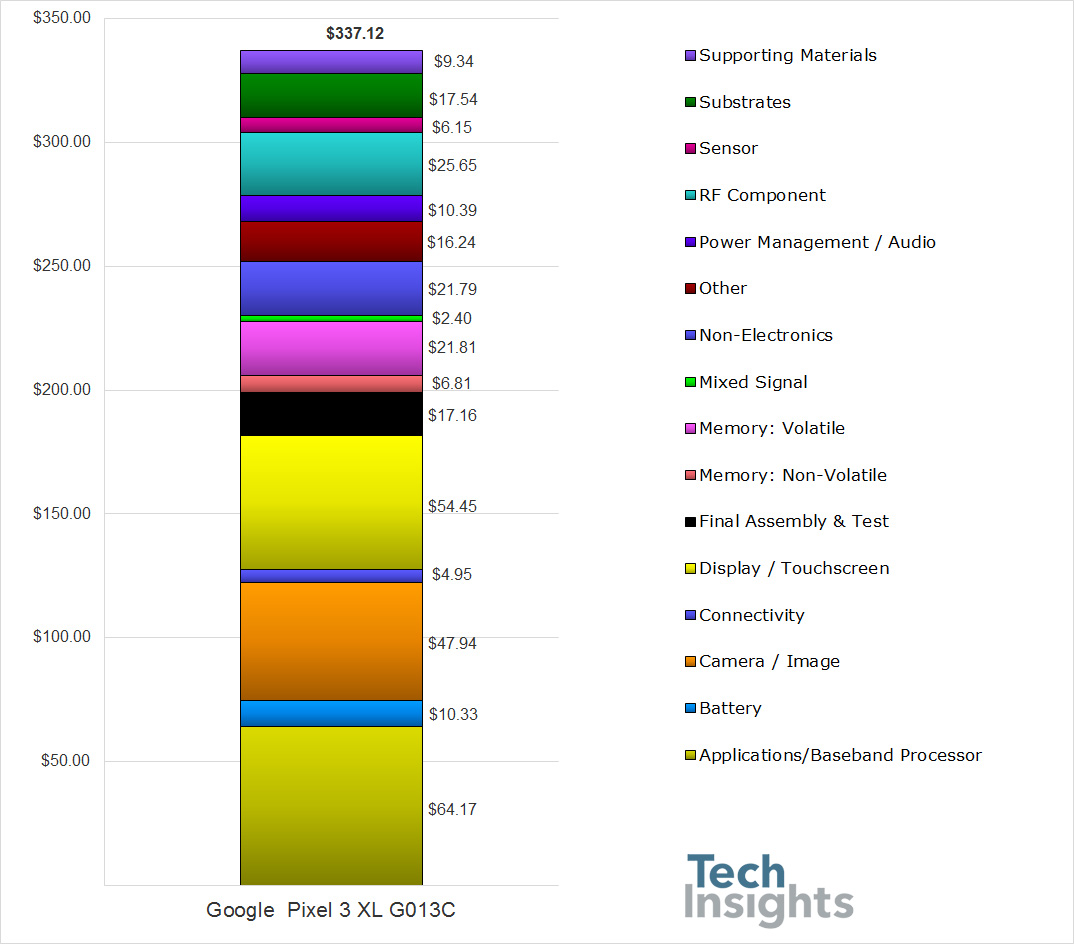 Google Pixel 3 XL Costing Update (February 13, 2019)
When we released this teardown blog, it was with the aim of sharing some of our findings on design wins inside one of 2018's most anticipated phones. At the time, we promised to revisit once we had determined the cost of goods sold. We have that costing information available, and are pleased to share it with you.
With a street price of $899.00 USD, TechInsights estimates that the Google Pixel 3 XL G013C cost $337.12 to manufacture. The following table summarizes the different cost categories evaluated in our estimate.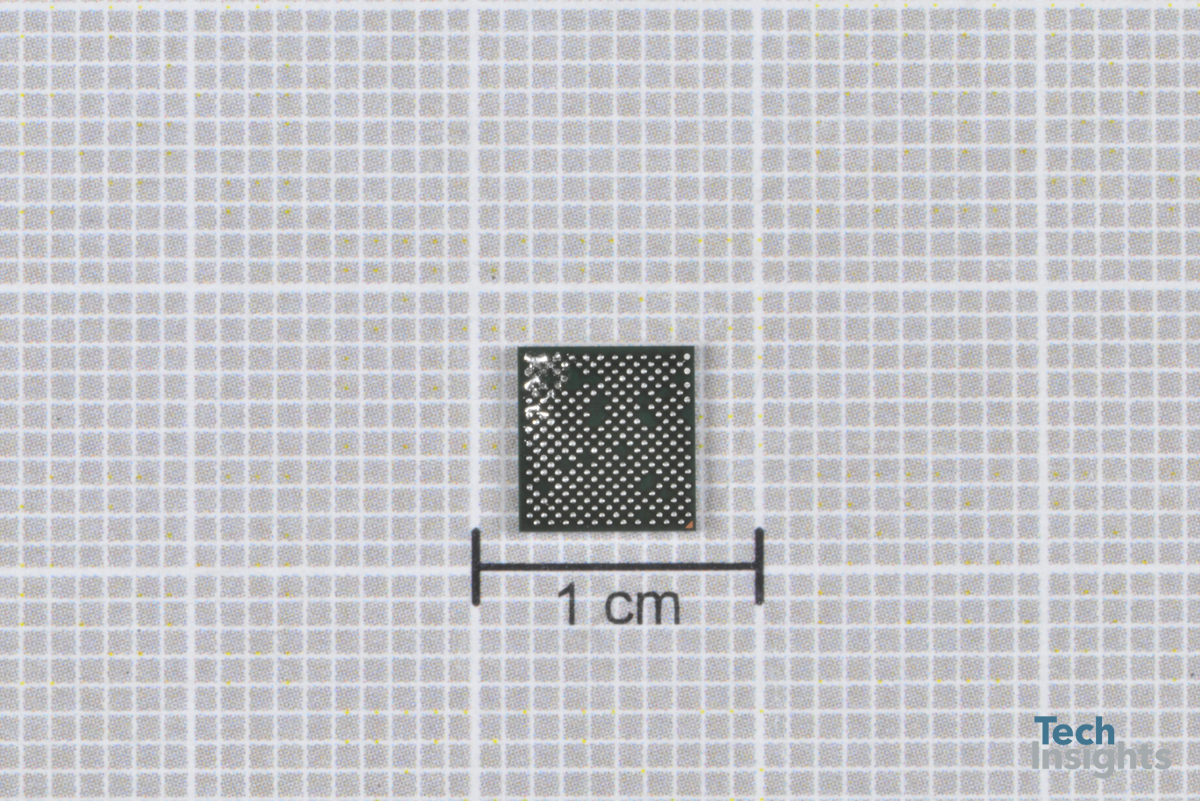 Mobile Chipset
Google Pixel 3 XL is designed on a Qualcomm Snapdragon 845 platform. The Package on Package (PoP) assembly includes the Qualcomm SDM845 Application/Baseband Processor and the Micron MT53D512M64D4RQ-053_WT_E, a 4 GB LPDDR4X SDRAM memory.
The Samsung Galaxy S9 was the first high-end smartphone with the latest Qualcomm Snapdragon 845, and TechInsights has seen a few more smartphones with the chipset. We have completed a Digital Functional Analysis Report (FAR) of the Samsung 10LPP fabbed Application/Baseband Processor.
See the Qualcomm Snapdragon 845 die photos on our previously-published Samsung Galaxy S9 teardown blog.
The RF Transceiver is the Qualcomm SDR845 that supports 1.2 Gbps Gigabit LTE.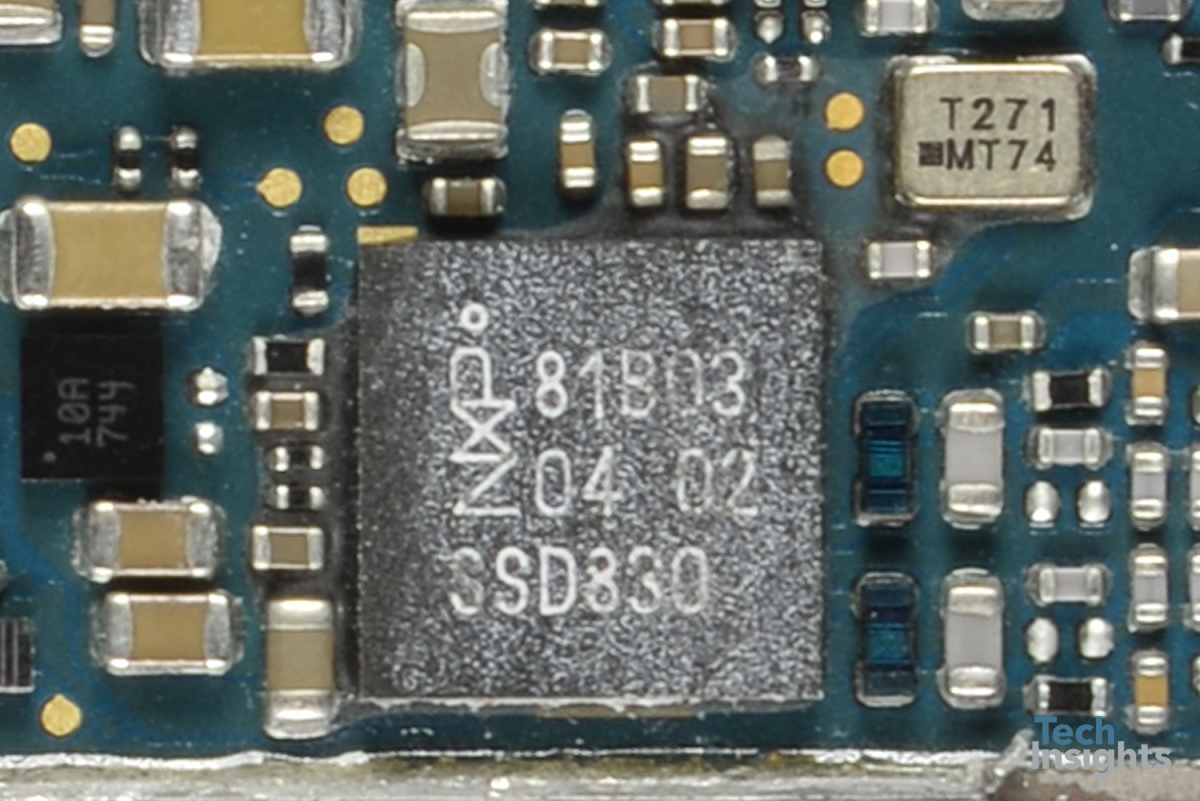 NFC Controller
NXP wins the NFC Controller socket with the PN81B. The die we found in the NFC controller has new die marks PN557, but it has same die size as the previous PN553 die found in the PN80T and PN81A from the Google Pixel 2.
The floorplan of the PN557 is also very similar compared to the PN553. The PN81B still has two die in one chip, i.e., the NFC Controller die and the Secure Element (SE) die. The SE die found in the PN81B is very likely the same one as the SE die from the PN80T and PN81A.
As a side note, the NXP NFC Controller SN100U (100VB27) used in the Apple iPhone Xs is a single die chip, with SE, NFC and eSIM in a single die. So far, TechInsights has completed a Basic Functional Analysis Report for this part, and we are continuing work on a Circuit Analysis Report.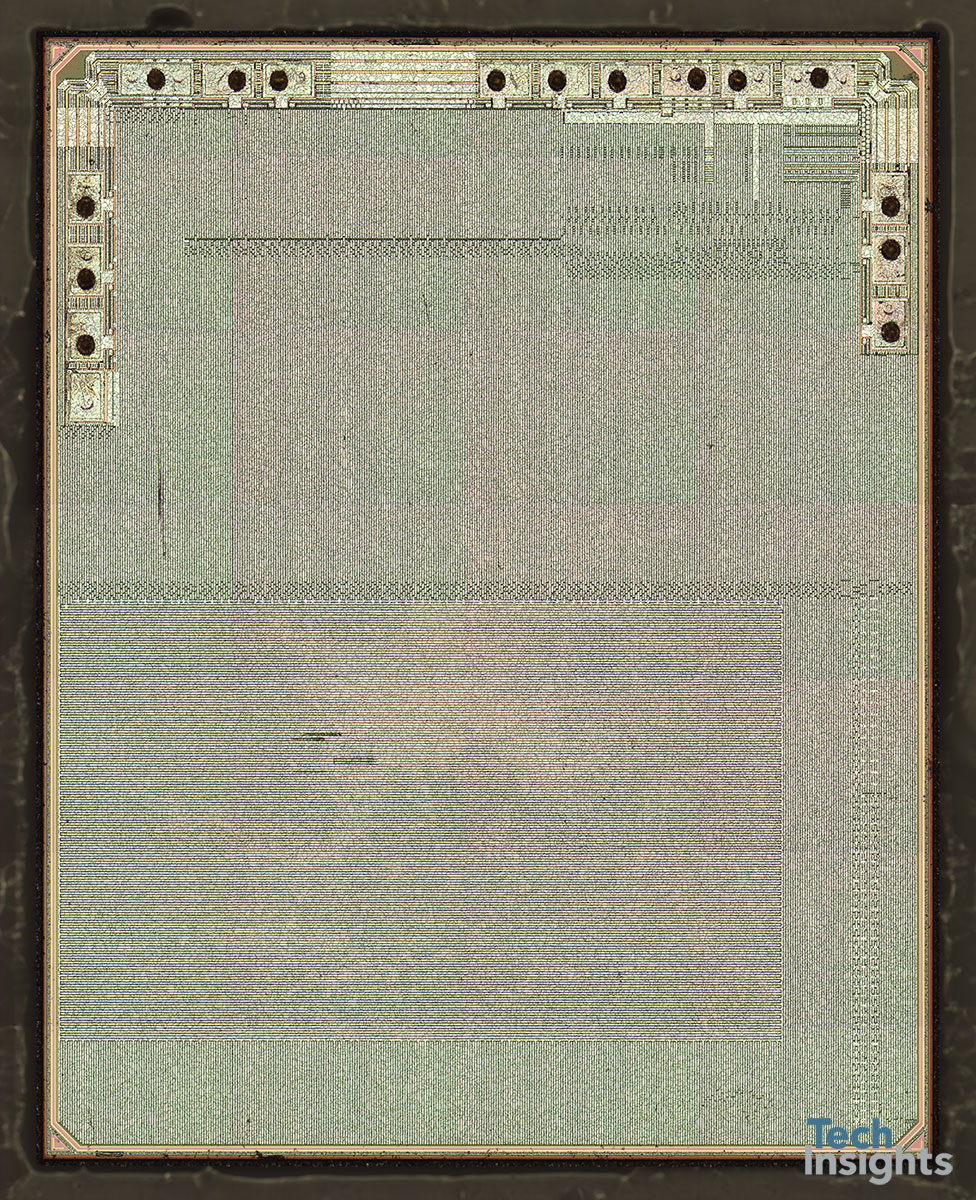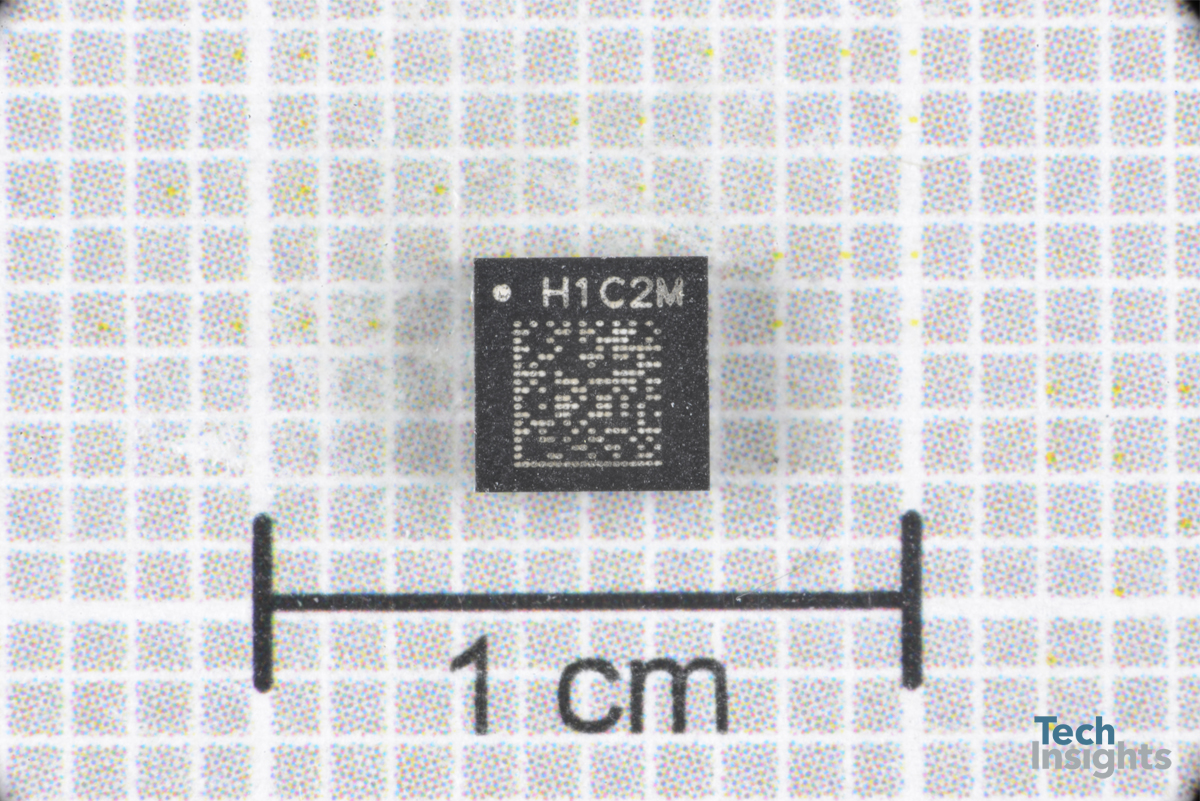 Security Processor
In the Google Pixel 3 and Pixel 3 XL, Google is using a custom-designed Titan M security processor H1C2M in the Pixel 3 XL.
With security becoming ever more important, we wonder if this signals the start of a trend toward designated hardware security processors in smartphones. Time will tell.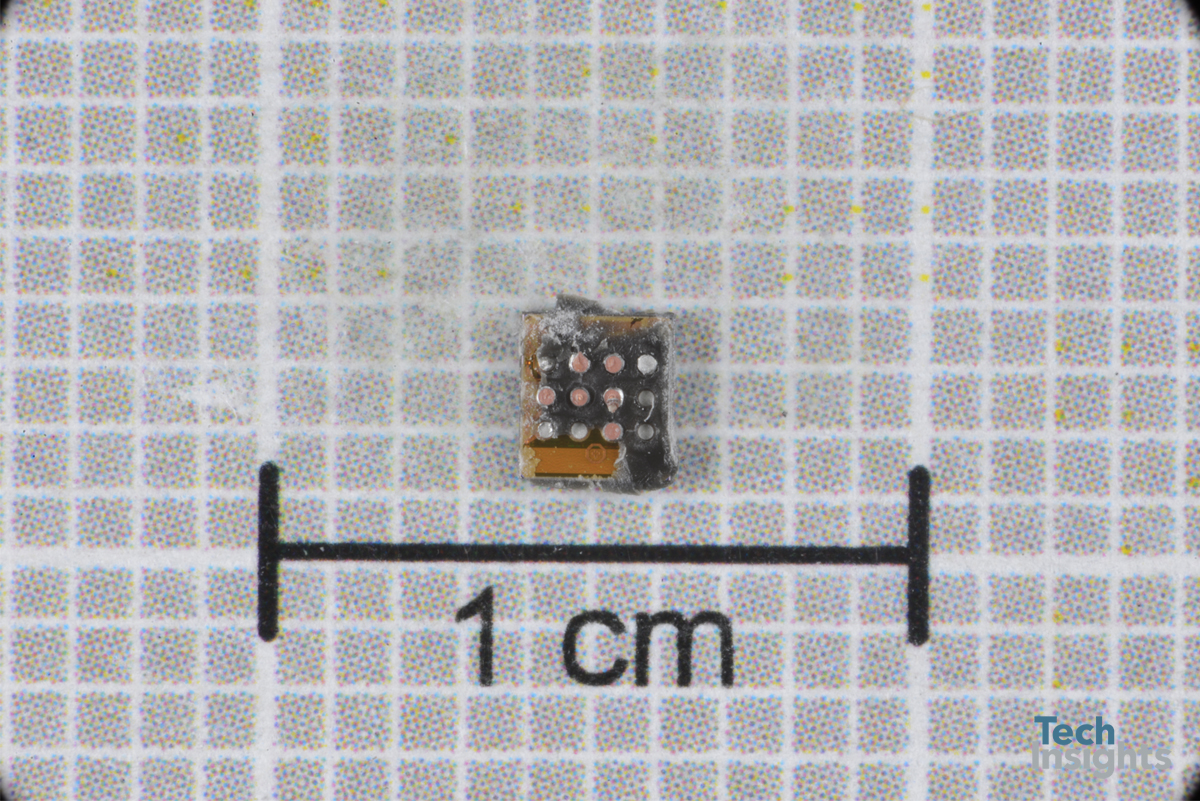 Other Processors
STMicroelectronics wins the secure MCU socket with a 12-pin WLCSP ST33J2M0, which has the ARM SecurCore SC300 32-bit RISC core and 2KB of non-volatile memory. The ST33Jxxx MCUs are suited for use for NFC secure element, eSIM, and fingerprint functions to just name a few applications.
We are conducting further analysis to confirm STMicroelectronics' 40 nm eFlash technology.
One final note about this MCU product family and eSIM application. The use of an embedded SIM (eSIM) option is gaining traction within mobile phones, including the latest iPhone Xs. An eSIM allows for ease of switching cellular carriers from the phone itself by just using an application.
The Google Pixel 3 and Pixel 3XL are said to have eSIM support. It is not clear as to whether the ST33J2M0 is used, or is also used, to support an eSIM function, however we are leaning towards a very strong "yes, it is".
And since we mentioned cellular carriers, we should also say the Google Pixel 3 and Pixel 3XL are the latest devices to work on Google Fi - the Google MVNO (mobile virtual network operator). It does require another cellular plan, however, Google Fi works seamlessly between major cellular carriers like AT&T, T-Mobile, and Sprint for example. Google Fi will also automatically switch between cellular and WiFi for calls and data.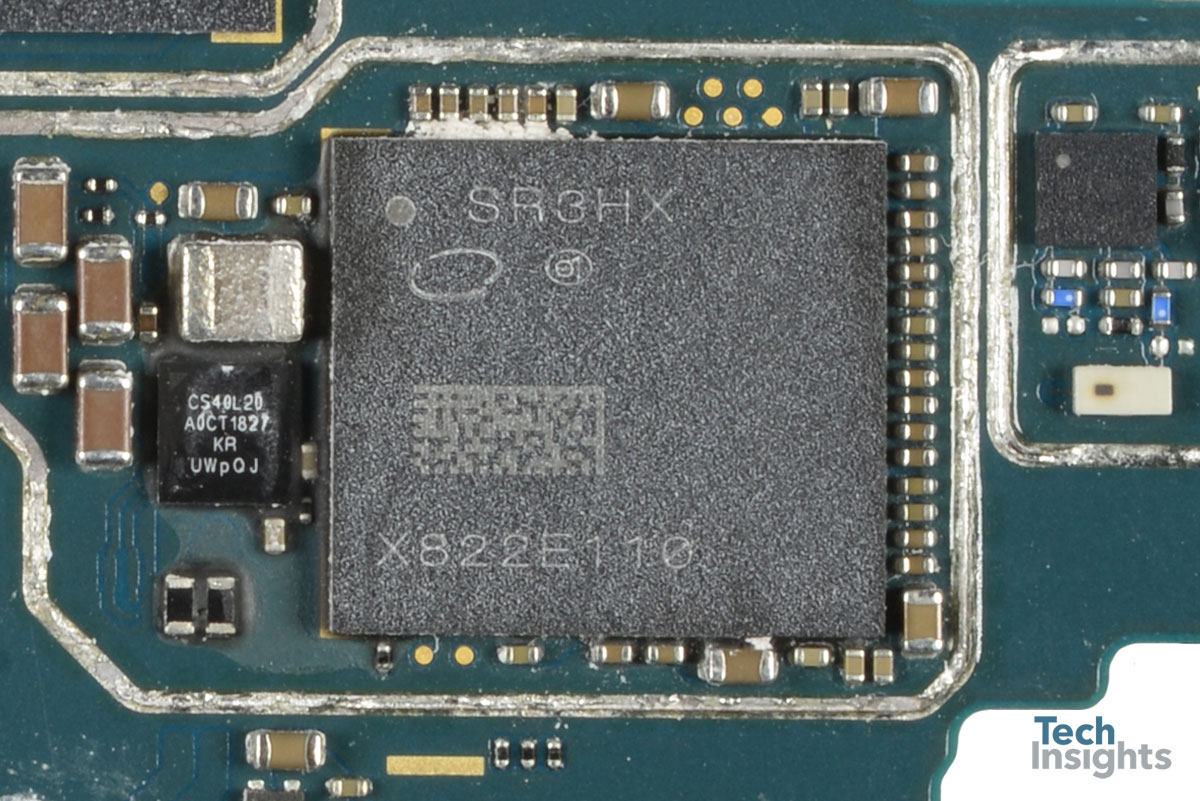 Image Processor and Image Sensor
Just as we found in the previous Google Pixel 2, a Google/Intel designed Image Signal Processor SR3HX is used again in the Pixel 3 XL. TechInsights has done an analysis report of the TSMC 28 nm HKMG fabbed processor.
At the time of this writing, we are still working to determine the wins for the three CMOS Image Sensors.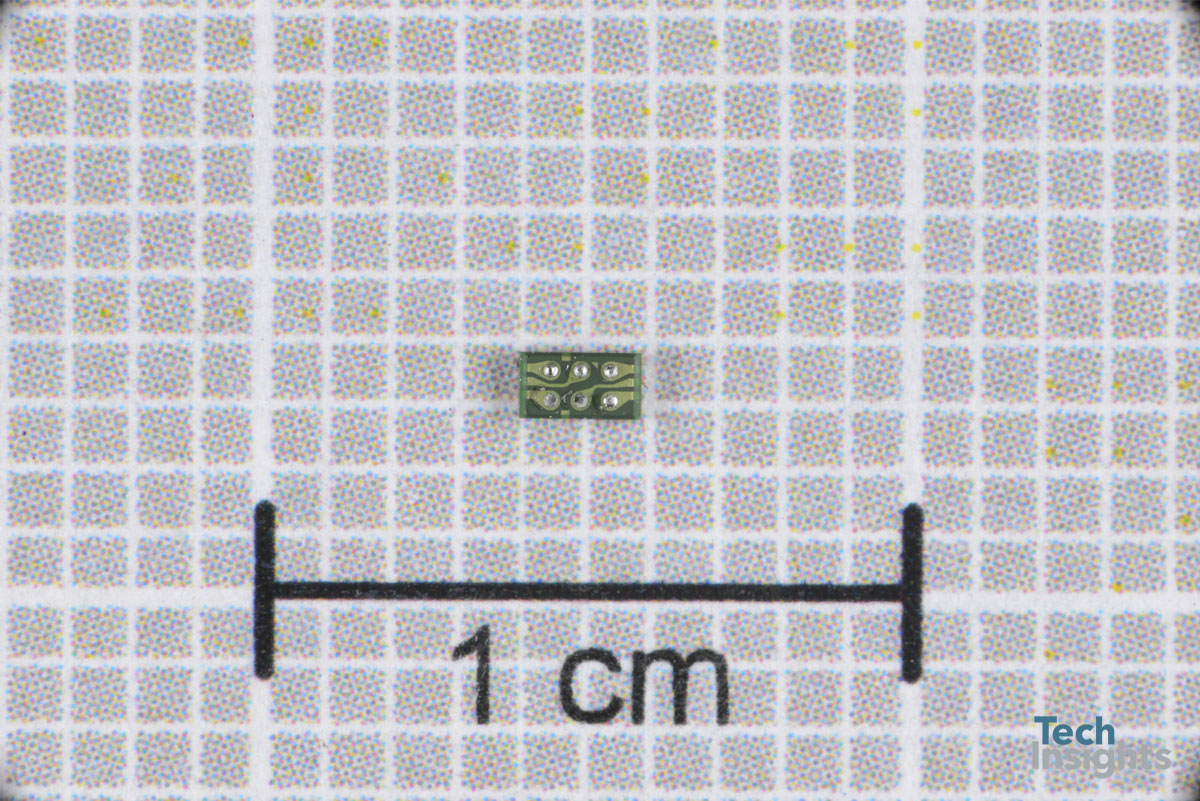 Sensors
AMS won the socket in the previous Google 2 XL, and this has traditionally AMS wins the ambient light / proximity space in high-retail mobile phones. To our surprise we found a STMicroelectronics Ambient Light Sensor in the this year's Pixel 3 XL.
Bosch wins the Inertial Sensor and the Pressure Sensor socket.
Flash Memory
Micron 64GB eMMC MTFC64GAOAMEA-WT.
Audio ICs
Qualcomm WCD9340 Audio Codec, and Cirrus Logic CS35L36 & CS40L20 Audio Amplifiers.
Power Amplifiers and Front-Ends
They are all from Qualcomm, including QPM2622, QPM2642, QPM2635, QDM3620, QDM3670, QDM3671.
Wireless Charger IC
Integrated Device Technology IDTP9221 wireless charger receiver IC.
Sign up for latest analysis, news and insights from TechInsights!
Stay informed about TechInsights' products, services, and events. Email collection adheres to TechInsights' Privacy Policy.
Revealing the innovations others cannot inside advanced technology products
Contact
General Inquiries
1-888-666-8888
1891 Robertson Rd #500, Nepean, ON K2H 5B7
Copyright © 2023 TechInsights Inc. All rights reserved.