Editorial: Nanometer Nonsense
Both leading foundries allowed customers to claim they were using a 4nm process when, in fact, they were using 5nm technology. This situation renders node names meaningless.

Linley Gwennap
Many people lie now and then about their age or weight, but when companies lie, it can be seen as false advertising or at least brand dilution. This situation recently arose in the semiconductor market when both of the leading foundries allowed customers to claim they were using a 4nm process when, in fact, they were using the same old 5nm process. This situation makes everyone look bad, especially the foundries. It's symptomatic of slowing transistor progress.
The problem started when Samsung, in a perennial race to beat TSMC to the next node, announced it would deliver production 4nm chips in late 2021, a year after it reached 5nm. To avoid giving Samsung bragging rights, TSMC decided to "pull in" its N4 node by two quarters. But when TechInsights analyzed the first chip, it found the critical process dimensions were exactly the same as in TSMC's earlier N5 products. The foundry's claim of 4nm production was a sham, as was MediaTek's claim of having a 4nm processor.
In the meantime, Qualcomm launched the Snapdragon 8 Gen 1 as a 4nm part on Samsung's 4LPX process. After analyzing the Snapdragon chip, TechInsights found that 4LPX is no different than 5LPE.
Although it gets them out of a short-term jam, faking new nodes is bad for the foundries. Touting a false 4nm milestone and allowing customers to advertise it dilutes the value of the foundries' branding. If 4nm isn't 4nm, do node names even matter? Why pay extra for 4nm technology if you can just rename an older node?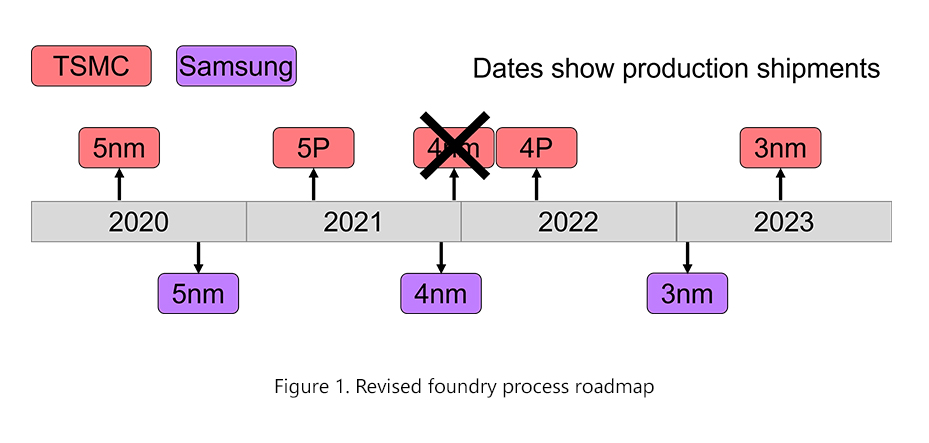 Free Newsletter
Get the latest analysis of new developments in semiconductor market and research analysis.
Subscribers can view the full article in the TechInsights Platform.
You must be a subscriber to access the Manufacturing Analysis reports & services.
If you are not a subscriber, you should be! Enter your email below to contact us about access.
Sign up for latest analysis, news and insights from TechInsights!
Stay informed about TechInsights' products, services, and events. Email collection adheres to TechInsights' Privacy Policy.
Revealing the innovations others cannot inside advanced technology products
Contact
General Inquiries
1-888-666-8888
1891 Robertson Rd #500, Nepean, ON K2H 5B7
Copyright © 2023 TechInsights Inc. All rights reserved.