Critical Subsystems 2021 Vendor Market Shares
Updates to Critical Subsystems on Website
Critical Subsystems Vendor Shares:

Vendor Revenues by Segment and Company ML
Soaring semiconductor demand drove critical subsystems sales to record levels in 2021. Total critical subsystems sales surged 33% last year, closing in on the $20B mark. The fastest growing segments in 2021 were Abatement Subsystems, Mass Flow Controllers, Ozone Generating Subsystems, and Lithography Optics. Certain other segments were hobbled by supply chain issues and unable to meet demand due to production limitations.
The top 10 vendors in the critical subsystem market include ZEISS, MKS Instruments, Edwards, Horiba, Advanced Energy, VAT, Ultra Clean Technology, Ichor Systems, ASML, and EBARA. 2021 was a strong growth year for all of the top 10 vendors, with Horiba recording the fastest sales growth of over 50%. These companies design, manufacture, and support various markets including Fluid Management Subsystems, Integrated Process Diagnostics, Optical Subsystems, Power and Reactive Gas Subsystems, Thermal Management Subsystems, Vacuum Subsystems, Wafer Handling Subsystems, Integrated Subsystems, and Other Subsystems.
Files are presented in a downloadable Excel file format. There are no longer updated HTML pages with tables on the current website. The next website update will be mid-April with the Critical Subsystems Forecasts.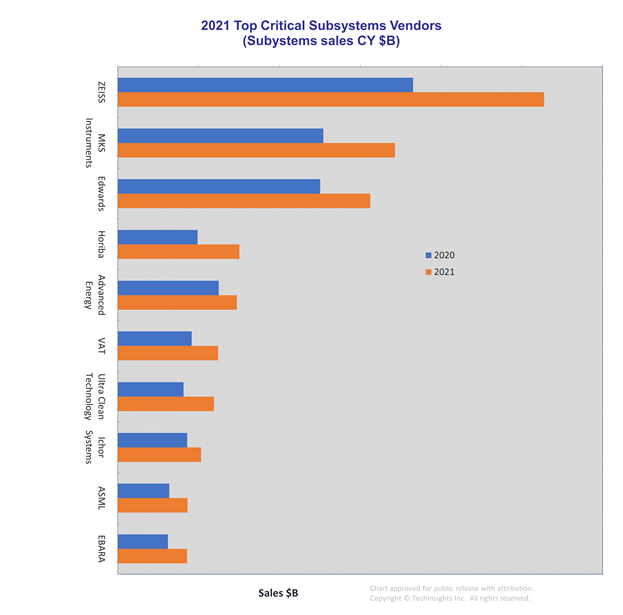 Free Newsletter
Get the latest analysis of new developments in semiconductor market and research analysis.
Subscribers can view the full article in the TechInsights Platform.
You must be a subscriber to access the Manufacturing Analysis reports & services.
If you are not a subscriber, you should be! Enter your email below to contact us about access.
Sign up for latest analysis, news and insights from TechInsights!
Stay informed about TechInsights' products, services, and events. Email collection adheres to TechInsights' Privacy Policy.
Revealing the innovations others cannot inside advanced technology products
Contact
General Inquiries
1-888-666-8888
1891 Robertson Rd #500, Nepean, ON K2H 5B7
Copyright © 2023 TechInsights Inc. All rights reserved.