Cortex-M85 Is Fastest MCU Core
The superscalar Cortex-M85 is Arm's fastest core for standalone microcontrollers and MCU-like subsystems. A vector unit helps it excel at AI.
Joseph Byrne
Cortex-M85 is Arm's fastest core for standalone microcontrollers and MCU-like subsystems. Its integer and floating-point performance eclipses that of Cortex-M7, and it adds the Helium vector processing extensions, which are compatible with Cortex-M55 but faster. The M85 delivers 20% more AI throughput than the M55. To attain its performance, the M85, like the M7, is a dual-issue 32-bit design with a longer pipeline than other M-series models, and it has optional caches. Arm is also releasing to developers preintegrated subsystems that incorporate the new core and a cloud-based simulation model. On general workloads, the M85 provides 30% more throughput per clock cycle than the M7. To thwart malicious software, the M85 adds new architectural features, including pointer authentication and branch target identification (BTI).
To help customers bring products to market more quickly, Arm released two preintegrated subsystems: the Corstone-310 and the Corstone-1000. Like the Corstone-300, which pairs a Cortex-M55 CPU and Ethos-U55 deep-learning accelerator (DLA), the Corstone-310 pairs the same DLA with the M85 and system peripherals. The DLA can complete 256 operations per cycle.
The company is also adding the M85-based Corstone-310 to its stable of virtual hardware, which it opened publicly last year by offering the M55-based Corstone-300. Developers launch the relevant Amazon Machine Image on AWS and gain access to an emulated Arm CPU, Corstone subsystem, or board (such as a Raspberry Pi). Arm wants developers to begin writing software before chips arrive, and it wants fewer of them to require physical development boards.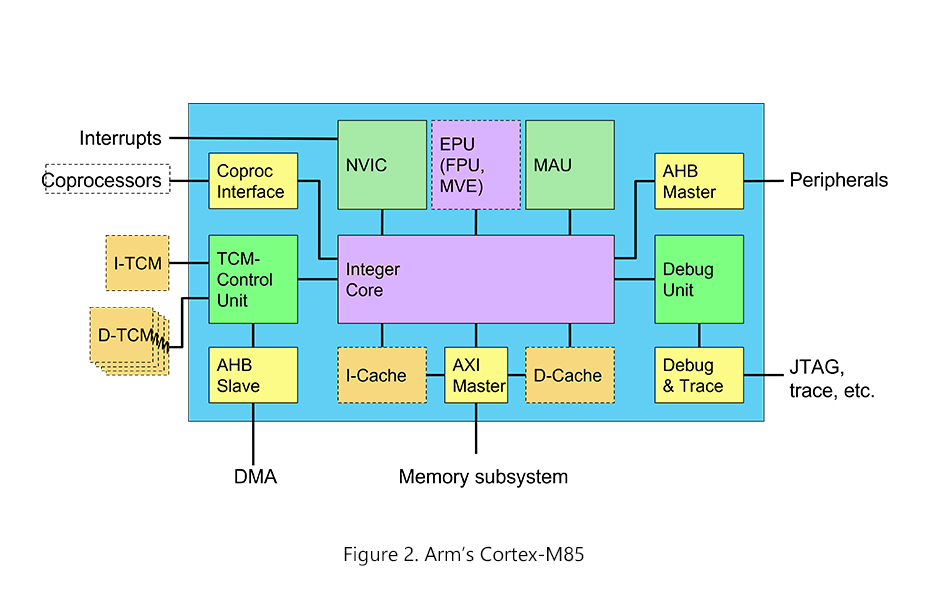 Free Newsletter
Get the latest analysis of new developments in semiconductor market and research analysis.
Subscribers can view the full article in the TechInsights Platform.
You must be a subscriber to access the Manufacturing Analysis reports & services.
If you are not a subscriber, you should be! Enter your email below to contact us about access.
Sign up for latest analysis, news and insights from TechInsights!
Stay informed about TechInsights' products, services, and events. Email collection adheres to TechInsights' Privacy Policy.
Revealing the innovations others cannot inside advanced technology products
Contact
General Inquiries
1-888-666-8888
1891 Robertson Rd #500, Nepean, ON K2H 5B7
Copyright © 2023 TechInsights Inc. All rights reserved.