Posted: September 11, 2013
Contributing Authors: Miranda Lim
Last week we took a high level look at BlackBerry's patent portfolio – total number of US patents and applications and other jurisdictions they are filing in. We also broke the portfolio down by key technology areas: handheld design technologies, multimedia platform, and the key differentiating features of BlackBerry. Most of BlackBerry's patents describe systems and software, with only about 10% representing hardware patents related to handset design.
This week we go deeper into these areas, describing the technology in more detail, and offering some observations regarding the types of markets and companies that may be of interest.
Key Differentiating Features
The key differentiating technologies that define "BlackBerry" are described in approximately 2500 patents pertaining to secure email and user interface. See chart 4 below (click to enlarge). The first group annotated, "Security, Email, Messaging, Data Delivery," contains about 1480 patents and applications. These patents describe inventions in areas ranging from message routing, message encoding, encryption and compression, document and image representation, user and device registration, identification and authentication, security feature on device, remote application execution, to instant messaging and email over SMS. These security and email inventions have safe-guarded the BlackBerry brand in the Enterprise domain, capturing markets from 60% of the Fortune 500 firms, and allowing the company to tap into government agencies where security is of a high concern (Financial Post, June 2013).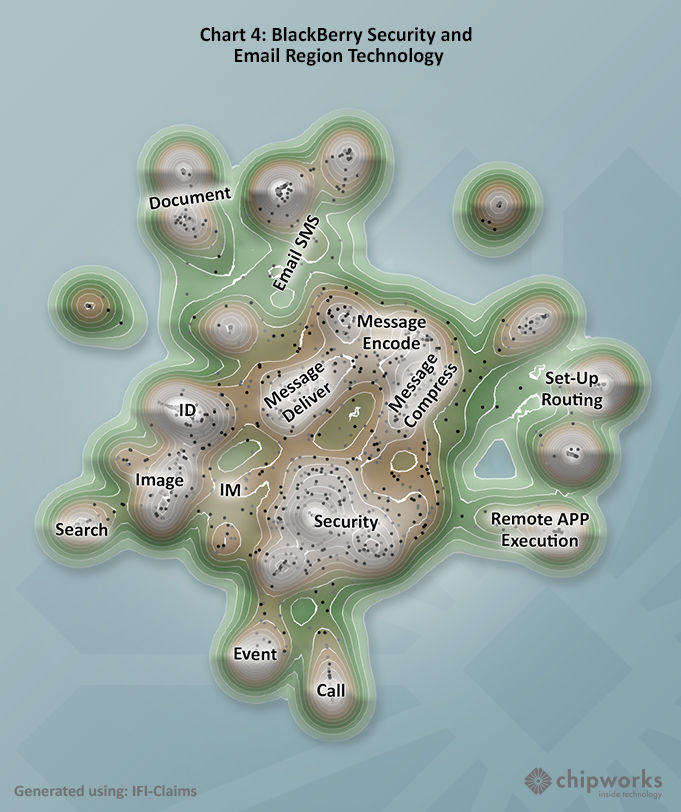 This area could potentially apply to many different industries such as cyber security, which has become an area of impressive growth nowadays. Message routing and compression enables efficient use of network resources, since BlackBerry data is well known to have a lower level of data consumption than its competitors. Consequently, this type of technology could be of interest to network operators and cloud companies.
The other differentiating group, "Gesture, Input Key, Text Prediction, Touch Screen," contains about 900 patents and applications describing touch screen display, gesture recognition, input text and language prediction, cameras, and input peripherals. See chart 5 below. The BlackBerry signature keyboard and distinctive user interface manipulation in the BlackBerry 10 and Playbook may embed these inventions. This group of patents may be of particular interest to handheld, tablet, and PC/laptop manufacturers.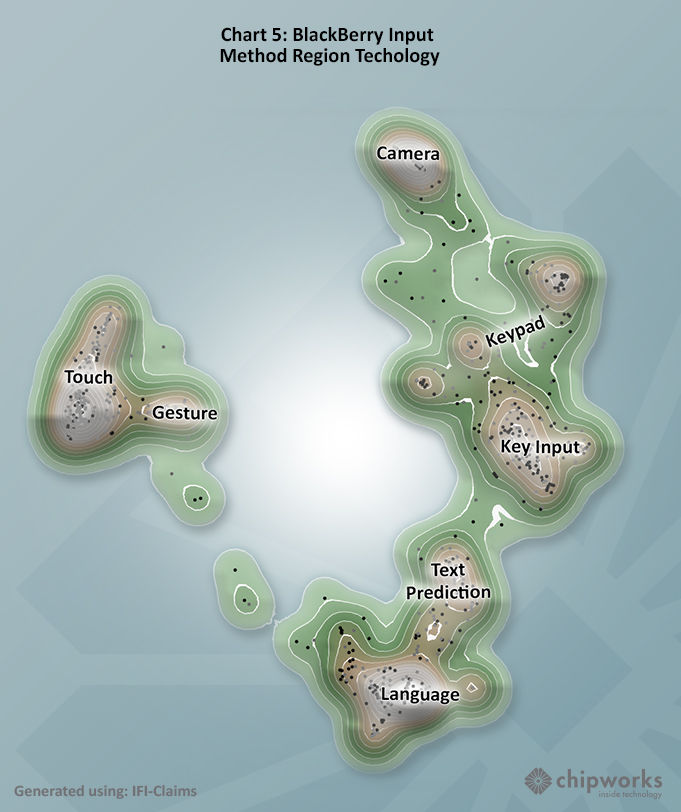 Handheld Design
Patents describing the handheld design area include roughly 2200 patents that exemplify BlackBerry as a handheld manufacturer. See chart 6 below. The "Antenna, Battery, Housing, Smart Card, NFC" group contains about 1500 patents and applications describing basic circuitry for RF communications, audio and speech enhancement, battery and power management, antenna design and embodiment in casing, board interface, handheld housing design, NFC, and smart card systems.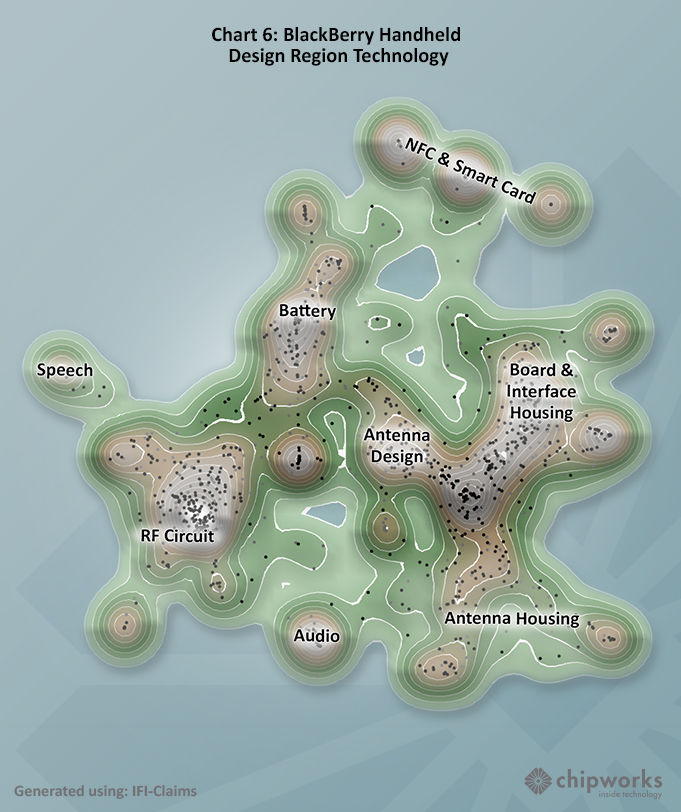 The "Cellular Technology" group contains about 750 patents and applications describing radio resource management, cellular cell RF measurement, cellular MAC and PHY layer operations, and call and data services over cellular network. See chart 7 below. Together, these two groups describe how to make a smartphone with all the essential parts. This is also where many of the Rockstar Nortel patents align, so many smartphone and tablet companies may be interested in this type of portfolio.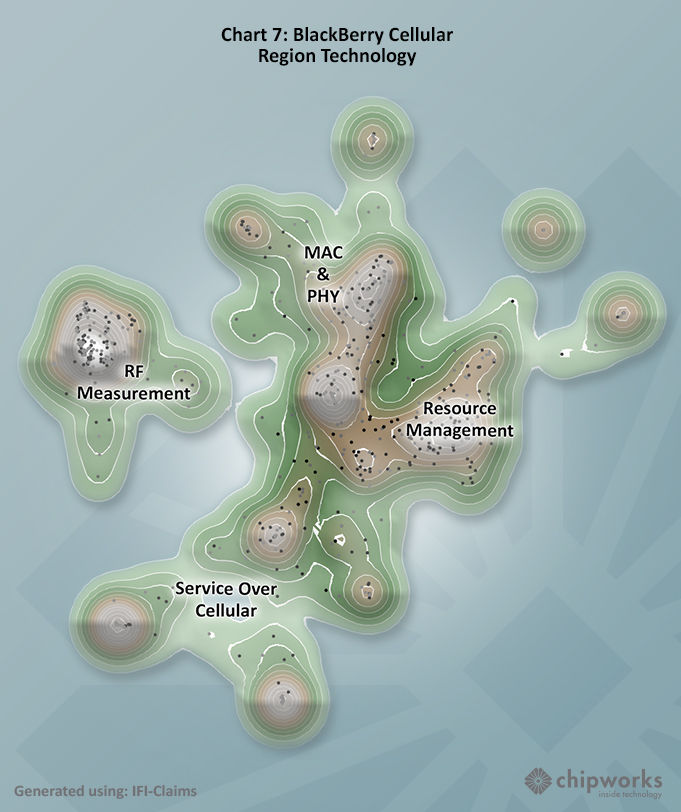 Multimedia Platform and Application Framework
The multimedia platform and application framework technologies comprise approximately 1500 patents. These describe BlackBerry enterprise and consumer applications, an area which has not attracted much news coverage, yet is of strategic importance for their products. The "Voice, Video, Conference, Location, Wi-Fi" group contains about 1350 patents and applications which describe client-server communication, session establishment, service registration and routing, video and call transport, location tracking, and Wi-Fi scanning. See chart 8 below. These technologies likely relate to video and voice conferencing applications in the domain of unified communications.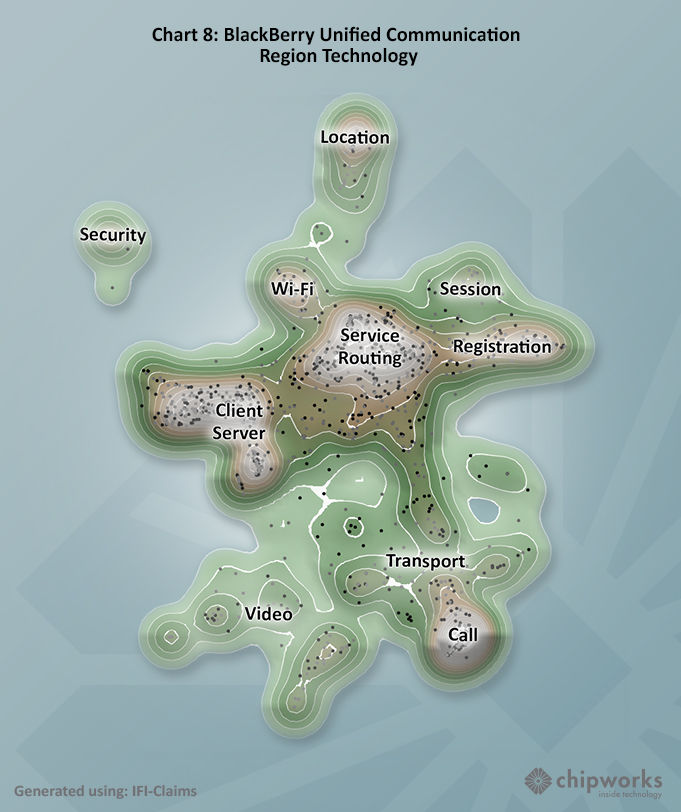 While not highly publicized, over the years, BlackBerry has developed platforms to help businesses extend their applications and services to mobile phones. Two features that result from inventions in this domain are the BlackBerry Mobile Voice System, which integrates business phone extension numbers to the mobile phone the same way BlackBerry integrates enterprise email to devices; and the Blackberry Enterprise Application Middleware platform, which provides API for third party enterprise applications to push data to mobiles using the BlackBerry secure channel.
The "Media & Application Framework" group contains about 150 patents and applications describing media file metadata and transport, map, and provisioning. These may represent inventions developed in the BlackBerry App Store. Patents in this area may be of interest to cloud companies, and companies in the Information and Communication Technologies (ICT) domain.
Next week, the series concludes with a discussion of BlackBerry's portfolio in the context of Rockstar and QNX – two important strategic moves for the company.
Sign up for latest analysis, news and insights from TechInsights!
Stay informed about TechInsights' products, services, and events. Email collection adheres to TechInsights' Privacy Policy.
Revealing the innovations others cannot inside advanced technology products
Contact
General Inquiries
1-888-666-8888
1891 Robertson Rd #500, Nepean, ON K2H 5B7
Copyright © 2023 TechInsights Inc. All rights reserved.