Jeongdong Choe, Senior Technical Fellow
Dr. Jeongdong Choe is a Senior Technical Fellow at TechInsights with nearly 30 years' experience in semiconductor process integration for DRAM, (V)NAND, SRAM and logic devices. He regularly provides blog content to TechInsights Memory subscribers.
TechInsights finally found Avalanche 40 nm pMTJ STT-MRAM device and just launch a deep analysis on it. STT-MRAM is still a promising new memory technology with very desirable properties including a very high (more than 20 year) endurance. STT-MRAM devices have been developed and commercialized with in-plane MTJ (i-MTJ) or perpendicular MTJ (p-MTJ) type from many of the MRAM players such as Samsung, Sony, Everspin, Avalanche, Renesas, TSMC, UMC and Intel (Figure 1, MRAM/STT-MRAM Technology & Product Roadmap)
The STT-MRAM cell design and structure used on Renesas M3008204 Serial Peripheral Interface Persistent Memory (Avalanche die marked as shown in Figure 2 and 3) show 40 nm p-MTJ layers with 0.032 µm2 cell size. The MRAM layer placed under M1 source line, between Contact-1 and Contact-2, which is quite unique compared with Samsung's and Everspin's. Table 1 shows a briefly summary and comparison of the MRAM technology.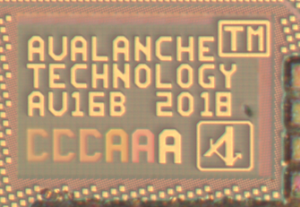 Want to read more?
TechInsights Memory subscribers already have access to exclusive TechStream content in the TechInsights Platform.
Platform Subscriber Login
Interested in a subscription?
TechInsights offers subscriptions to the broadest range of analysis and expert commentary. Contact us to learn about our memory subscription.
Contact us

A TechInsights subscription gives you the data you need - instantly.


Exclusive commentary on the latest technology developments from our experts


Access to the world's largest library of semiconductor and advanced technology analysis

Comprehensive technology analysis to enable you to make fact-based decisions on your biggest investments
Sign up for latest analysis, news and insights from TechInsights!
Stay informed about TechInsights' products, services, and events. Email collection adheres to TechInsights' Privacy Policy.
Revealing the innovations others cannot inside advanced technology products
Contact
General Inquiries
1-888-666-8888
1891 Robertson Rd #500, Nepean, ON K2H 5B7
Copyright © 2023 TechInsights Inc. All rights reserved.