Apple 3rd in Worldwide Semiconductor Market

G. Dan Hutcheson
The Chip Insider®
Strategy and Tactics: AI in the fab: Who does it? Ukraine's Neon Supply. Apple 3rd in Semis
AI in the fab: Who does it? Pretty much everybody today. Chipmakers started to seriously develop AI for the fab around 10 years ago. At least that was when I first became aware of it. It was around 2022 when I started to have secret discussions with them about using the technology for manufacturing control. So I am sure it was being played with long before that and by now you can't be competitive without it... the difficulties in bringing AI to the fab have had little to do with the technology - albeit more compute power always helps - or lack of applications. I have seen three fundamental stumbling blocks for chipmakers trying to implement AI in the fab... it raises profit by improving PPACt. Variability ... So, the hidden 'P' in Power, Performance, Area, Cost, and time takes a hit. What's the hidden P? It's profitability.
What's Happening and What's the Meaning: Ukraine's Neon Supplier's Shut Down: Techcet says the Ukraine supplies ... our industry has proven time-and-again that 50% supply concentrations can be dealt with. Short-term supply probably is not an issue either... cost is not a real issue either ... the real issue here is to reporters and the only thing I've been able to come up with is from the classic 'For Want of a Nail' proverb. The interesting thing about it all can be found at the intersection of strategy and the law of unintended consequences. Interesting in that it makes for a wonderful conspiracy theory. Apple's share of TSMC's sales reaches 26% ... in terms of equivalent end market value ... it comes to roughly $55B. This makes Apple ... the third-largest chip company in the world, just behind Samsung and Intel and ahead of SK hynix and Micron in the top five semiconductor suppliers.
Dan's Book Shelf: Leadership in Management by John Chen is the first authoritative book on leading R&D teams effectively in environments such as semiconductors, IC foundries, and fabless chip design houses. Markedly different from general management books... its author is ... a real technologist working on the frontlines of the fabless-foundry side of the industry. Want to know how to succeed in the foundry business? Then go straight to chapter 10, titled Vision and Culture, where there are many stories about how it has been done at TSMC and Nvidia. Including how they developed and integrated ethics and culture to become competitive advantages. In it are some of the most useful insights from John's personal interactions with Morris Chang and Jensen Huang.
The Chip History Center: - Maxims reloaded — It is a basic principle that a large multi-product company, which should have all the advantages, can be beaten in segments by smaller companies if the large company's product groups have poor inter-divisional communication and coordination. The early eighties saw the emergence of several multi-product companies: GCA, Eaton, General Signal, Perkin-Elmer, and eventually Applied Materials.
Narratives - not earnings - Drive PEs: It is a strategic error to focus too closely on the more predictable control of quarterly earnings results, while providing a stale narrative for where future earnings growth will come from. Earnings are just the denominator. Price is driven by ... Jensen Huang ... Nvidia's reengineering the ... Lisa Su ... AMD's ability to take on ... Reinhard Ploss makes you believe ... and Infineon's role ...See here
It's all about good management and only the bad times tell: During the late eighties execs had to sit through lectures about the superiority of Japanese management. After sitting through one, Jim Morgan, of Applied Materials replied ...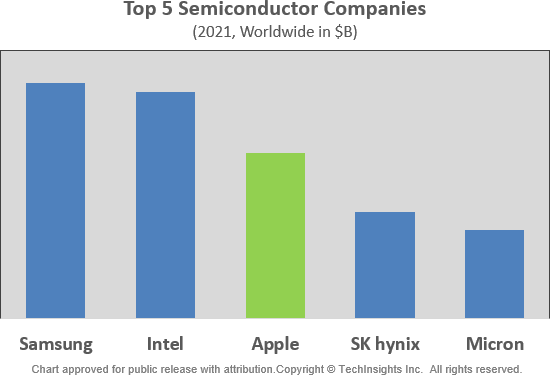 Free Newsletter
Get the latest analysis of new developments in semiconductor market and research analysis.
Subscribers can view the full article in the TechInsights Platform.
You must be a subscriber to access the Manufacturing Analysis reports & services.
If you are not a subscriber, you should be! Enter your email below to contact us about access.
Sign up for latest analysis, news and insights from TechInsights!
Stay informed about TechInsights' products, services, and events. Email collection adheres to TechInsights' Privacy Policy.
Revealing the innovations others cannot inside advanced technology products
Contact
General Inquiries
1-888-666-8888
1891 Robertson Rd #500, Nepean, ON K2H 5B7
Copyright © 2023 TechInsights Inc. All rights reserved.