Analog & Power Rising Like 2021

G. Dan Hutcheson
Semiconductor Analytics
Semiconductor sales were flat W/W in the second week of March. Though still high Y/Y, it was abnormally weak. The IC weather cooled another 1°F last week. Zooming in on Analog & Power this week, 13-wk MA growth has risen like it did in 2021 and is now around 30% Y/Y. Growth is forecasted to finish 2022 around +16% Y/Y, reaching $110B.
TechInsights' IC Supply/Demand indices were mostly unchanged last week, with More than Moore Foundry the only segment to tighten. Slight improvements also shifted the 1Q22 NowCast for Foundry up a level to Loose. Overall conditions remain Tight, where they have been since 24 Sep 21. So far, there are no indications of a Macro recoupling in the data. Given the history, we do believe it will appear on the horizon.
Electronics' Retail Price MAs continue to soar. But there are signs of weakness in PCs and Consumer.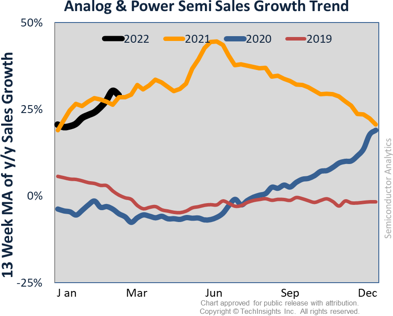 Free Newsletter
Get the latest analysis of new developments in semiconductor market and research analysis.
Subscribers can view the full article in the TechInsights Platform.
You must be a subscriber to access the Manufacturing Analysis reports & services.
If you are not a subscriber, you should be! Enter your email below to contact us about access.
Sign up for latest analysis, news and insights from TechInsights!
Stay informed about TechInsights' products, services, and events. Email collection adheres to TechInsights' Privacy Policy.
Revealing the innovations others cannot inside advanced technology products
Contact
General Inquiries
1-888-666-8888
1891 Robertson Rd #500, Nepean, ON K2H 5B7
Copyright © 2023 TechInsights Inc. All rights reserved.