3D-Micromac CEO to Present at TechBlick MiniLED and MicroLED Displays Conference

3D-Micromac gaining momentum in microLED market with new laser processing system orders and industry engagements
Chemnitz, Germany, November 21, 2022— 3D-Micromac AG, the industry leader in laser micromachining and roll-to-roll laser systems for the semiconductor, photovoltaic, glass and display markets, today announced that its CEO, Uwe Wagner, is presenting at the TechBlick "Mini- & Micro-LED Displays: Markets, Manufacturing Innovations, Applications, Promising Start-ups" event, to be held virtually on November 30-December 1.
Uwe Wagner's presentation, "Laser technologies for the production of microLEDs," will highlight laser-based system solutions for various manufacturing steps for microLEDs, including the use of integrated process control and monitoring to assure stable and reliable operation to ensure high throughput and low yield losses. His presentation will take place on Thursday December 1 beginning at 4:55 pm Central European Time (CET).
TechBlick Mini- & Micro-LED Displays is the first-ever event dedicated to miniLED and microLED technologies, which have the potential to revolutionize the display industry by enabling superior viewing angle, high dynamic range with perfect black luminance and high brightness, wide color gamut, fast refresh rates, long lifetime and low power consumption.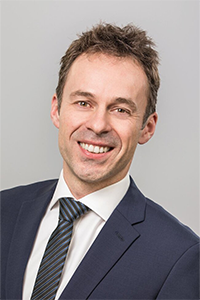 Uwe Wagner, CEO of 3D-Micromac AG
Laser Technologies for microLED Production
MicroLEDs have tremendous potential for future displays. However, several technical challenges must be overcome in the fabrication process prior to widespread deployment of microLEDs in the marketplace. One key hurdle is developing a process to release the dies from the sapphire growth wafer. Another is developing a process to transfer these dies to the display substrate with micron-level precision and reliability.
3D-Micromac addresses these challenges with its laser processing solutions, including its microMIRA™ Laser Lift-Off (LLO) system for separating the finished microLEDs from the sapphire growth wafer, and its microCETI™ Laser-Induced Forward Transfer (LIFT) system for moving the devices from the donor substrate to the display substrate. 3D-Micromac is a pioneer in the field of microLEDs, with more than 10 laser processing systems sold to date for microLED applications, including a recent order for multiple microMIRA systems from a leading optical solutions provider.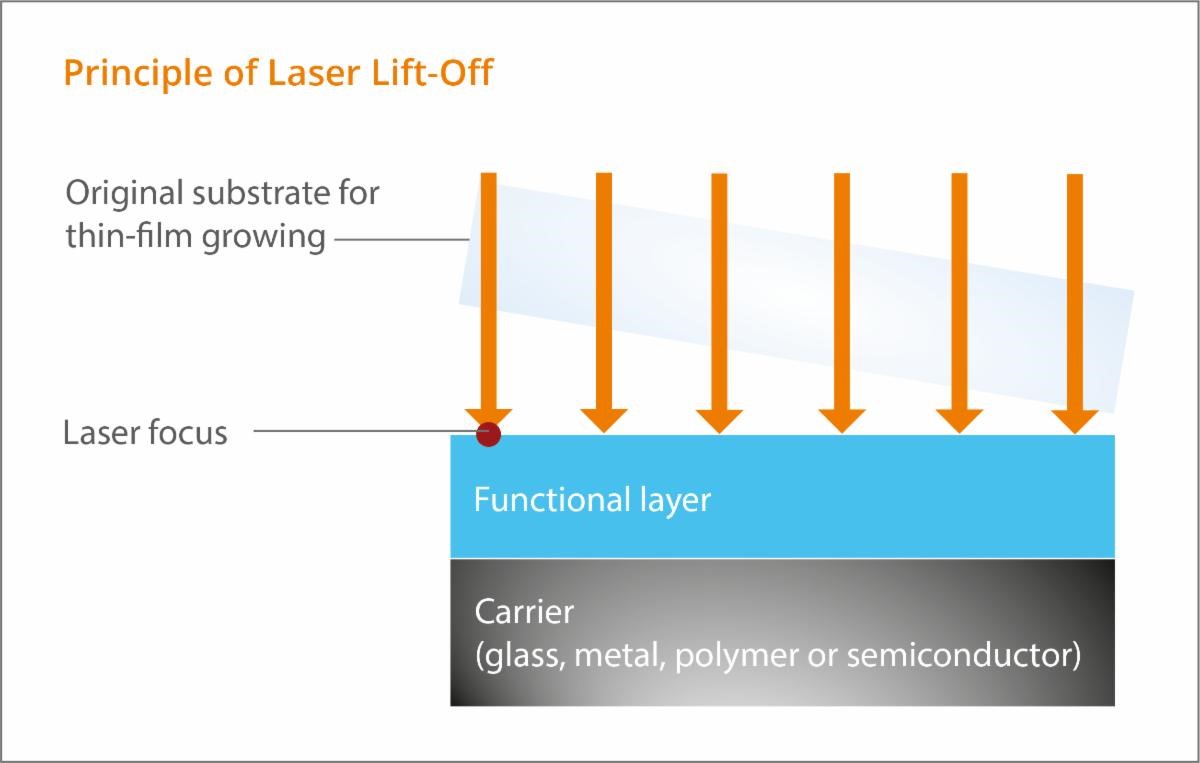 3D-Micromac's Laser Lift-Off (LLO) process, available on both the company's microCETI™ and microMIRA™ laser micromachining platforms, selectively detaches one material from another without causing damage to the carrier or base material. It can be used to separate microLED chips from the sapphire growth substrate for testing, as well as separate transparent and absorbing flexible substrates from glass substrates. Source: 3D-Micromac.
3D-Micromac is also a founding member of the MicroLED Association, which was established earlier this year to accelerate the adoption of microLED display technologies by bringing together companies, researchers and organizations active in the microLED industry and providing a forum for solving common technology issues, fostering cooperation and sharing relevant information, resources and tools. 3D-Micromac sees the MicroLED Association as an important body to help establish close networking and cooperation between customers and technology providers for further market development, and sees group efforts around topics like standardization as key to boosting market entry and paving the way for new display technologies.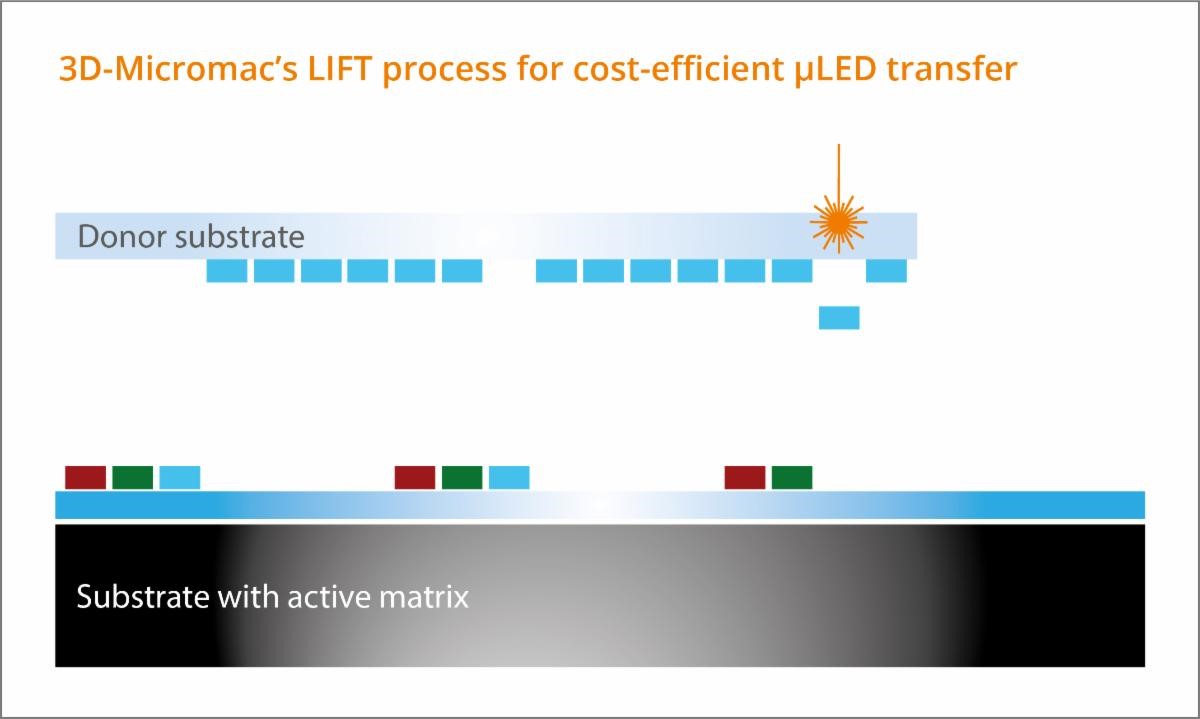 3D-Micromac's Laser-Induced Forward Transfer (LIFT) process, available on the company's microCETI™ laser micromachining platform, provides high-throughput and cost-efficient transfer of microLED chips from the carrier substrate to the display substrate. The laser on the microCETI platform is highly selective, enabling single or multiple microLED chips to be separated and transferred. Source: 3D-Micromac.
For More Information
To learn more about 3D-Micromac's solutions for microLED fabrication, download the company's latest white paper at https://3d-micromac.com/whitepaperdownload-microled.
About 3D-Micromac
Founded in 2002, 3D-Micromac AG is the industry leader in laser micromachining, delivering powerful, user-friendly and leading-edge processes with superior production efficiency. We develop processes, machines and turnkey solutions at the highest technical and technological level. 3D-Micromac systems and services have been successfully implemented in various high-tech industries worldwide including photovoltaic, semiconductor, glass and display industries, micro diagnostics, and medical technology. For more information, visit the company's website at http://www.3d-micromac.com.
Company Contact:
Mandy Gebhardt
Manager, Marketing and Public Relations
3D-Micromac AG
Tel: +49 371 40043-26
E-mail: gebhardt@3d-micromac.com
Agency Contact:
David Moreno
Principal
Open Sky Communications
Tel: +1.415.519.3915
E-mail: dmoreno@openskypr.com
Free Newsletter
Get the latest analysis of new developments in semiconductor market and research analysis.
You must be a subscriber to access the Manufacturing Analysis reports & services.
If you are not a subscriber, you should be! Enter your email below to contact us about access.
Sign up for latest analysis, news and insights from TechInsights!
Stay informed about TechInsights' products, services, and events. Email collection adheres to TechInsights' Privacy Policy.
Revealing the innovations others cannot inside advanced technology products
Contact
General Inquiries
1-888-666-8888
1891 Robertson Rd #500, Nepean, ON K2H 5B7
Copyright © 2023 TechInsights Inc. All rights reserved.