2023 Forecast, When Forecasting fails

G. Dan Hutcheson
The Chip Insider®
2023 Forecast Update: There were major changes to the 2023 projections in this week's TCI Graphics file. IC sales are expected to be down 6% and Semi Equipment off 14%, with WFE down 16%. Service and Support will buffer this, while Assembly and Test have already been beaten up, explaining its milder 2023. The roughest quarters for Assembly Equipment come at the end of 2022. WFE and Test will be hit the hardest in the second half of 2023. TechInsights have factored multiple headwinds into the forecast that have emerged rapidly since June.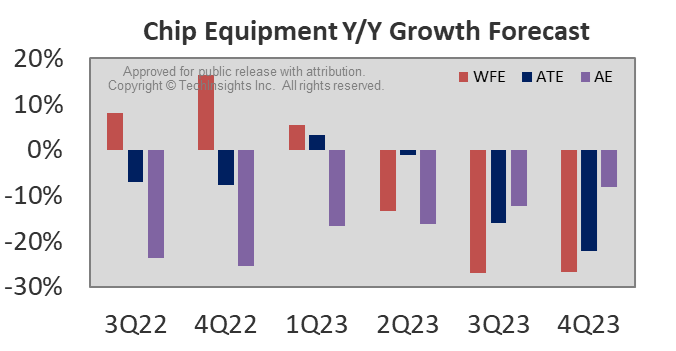 When Forecasting fails: In 2021 and 2022, companies were caught out with major surprises that should not have been the case. First, there was the Great Chip Shortage of 2021, which was first reported in the Wall Street Journal early that year. Most recently was Journal's report: "Memory demand dries up" October 8-9, 2022 which came the weekend after AMD's surprise miss the Thursday before. They also added in Micron's report of a 45% drop in profit and Samsung's Friday "forecast" of a 32% crash in operating profit for the 3Q22 quarter. It is a general rule that all forecasts will be wrong. And as Yogi Berra so profoundly said, "Forecasting is difficult—Especially when it's about the future." The job of a forecaster is not to be right. It is to be less wrong. There are so many uncontrollable variables outside a model, that it's only pure luck when a forecaster is precisely right. Trust me… I know. But none of this means you can't forecast. Every decision about the future is a forecast, whether it's intentional or not. Driving to work is a forecast of a paycheck and that you won't get into a traffic accident. Predators chasing prey are forecasting a meal. DNA is nature's forecast of an optimal life-form — the code for which was perfected and continues to be improved over time. As for DNA forecast error, sometimes a mutation gets it wrong. Life goes on because nature has built an amazing anti-fragile infrastructure to deal with unpredictable failures … there were plenty of signs forecast fails in the making… the shift in 3-weeks from Glut to Shortage conditions in Auto IC Supply/Demand … in 2020. Then there was the shift from Tight Overall conditions to Saturated in June of 2022, as inventory soared ... There was plenty of hoarding, which Reuter's reporter Jane Lanhee Lee described as "Chips face a toilet paper hoarding moment" on July 12… It was the most-read article on Reuters that day. While many observed these indications, few acted … even us in changing our forecast. And companies only recently started to shift guidance…
What's Happening and What's the Meaning: New U.S. restrictions on American semiconductor equipment and citizens…
"Forecasting is difficult… Especially when it's about the future" – Yogi Berra
Click here to get more information about Semiconductor Chip Market Research Services
Free Newsletter
Get the latest analysis of new developments in semiconductor market and research analysis.
Subscribers can view more articles in the TechInsights Platform.
You must be a subscriber to access the Manufacturing Analysis reports & services.
If you are not a subscriber, you should be! Enter your email below to contact us about access.
Sign up for latest analysis, news and insights from TechInsights!
Stay informed about TechInsights' products, services, and events. Email collection adheres to TechInsights' Privacy Policy.
Revealing the innovations others cannot inside advanced technology products
Contact
General Inquiries
1-888-666-8888
1891 Robertson Rd #500, Nepean, ON K2H 5B7
Copyright © 2023 TechInsights Inc. All rights reserved.